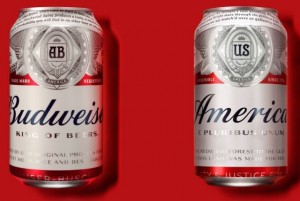 Starting May 23, Budweiser beer drinkers will be raising a can of their favourite brew with a new name and label: "America." And it's all thanks to Donald Trump. Or at least, that may be how Trump sees it.
In a phone interview with Fox News early Wednesday, the GOP nominee was asked whether he believed he "had something to do with Budweiser changing the name of their beer" to "America," a rebranding effort reported earlier this month by Ad Age.
Trump responded, "I think so. They're so impressed with what our country will become. They decided to do this before the fact."
The billionaire was referring to his own campaign promise to "Make America Great Again," a slogan he's plastered on hats and echoed around every rally venue.
The patriotic rebranding will last through the election season this November, and a TV spot will begin advertising the new stars-and-stripes packaging starting June 1. The cans and bottles will feature lyrics from "The Star Spangled Banner" and "America the Beautiful." The Statue of Liberty will also appear on select cans and bottles.
Anheuser-Busch InBev, which owns the Budweiser brand, is based in Belgium, but the company's rebranding effort is an attempt to capitalise on a "wave of patriotism" expected this summer in the U.S. according to the brand's vice president. "We are embarking on what should be the most patriotic summer that this generation has ever seen, with Copa America Centenario being held on U.S. soil for the first time, Team USA competing at the Rio 2016 Olympic and Paralympic Games," said Ricardo Marques, vice president of Budweiser.
The Budweiser brand has appealed to American patriotism on its packaging before, with some cans and bottles redesigned to feature the State of Liberty. But the total brand name change seems to be unprecedented.