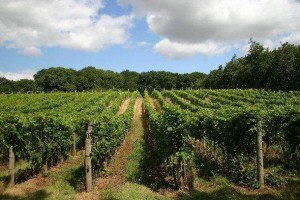 Official figures from English Wine Producers have confirmed that good growing conditions in 2013 helped produce a record breaking English grape harvest. With favourable weather so far this year, the industry is gearing up for a second bumper vintage in two years. Wine makers are generally optimistic after wet weather badly impacted results in 2012. Strong English production may have an impact on New Zealand wine exports to Britain, and may see more English wines heading our way.
The English Wine Producers harvest figures for 2013 reveal the highest production on record, a total of 33,384 hectolitres, equating to just below 4.5 million bottles, the highest volume ever. It broke the previous record of 4 million bottles in 2010. The increase reflects the ongoing rise in planting that the industry continues to experience.
In the last seven years, hectarage has doubled, with some 500 hectares planted in the last two years alone. Sparkling wine now accounts for around two thirds of England's total production with Chardonnay, Pinot Noir and Pinot Meunier accounting for approximately 45% of recent plantings, followed by Bacchus. It is quite a different mix to the New Zealand wine industry.
Julia Trustram Eve, marketing director of English Wine Producers said "2013 was an excellent year for many UK vineyards, with a welcome long, warm summer that has resulted in some great quality wines as well as the highest ever volume produced. This is a growing industry, with demand still exceeding supply and the planting continues, with a number of new vineyards being established this year."
For more information see http://www.englishwineproducers.co.uk/