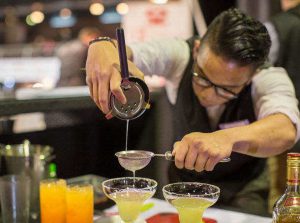 Do you know your Daiquiri from your Singapore Sling? Then check out the range of competitive classic cocktail events on offer at this year's annual hospitality championships 28-31 July. From the Classic Cocktail Open to the Cocktail Smackdown there are competitions for a wide range of skill levels.
For the Classic Cocktail Open competitors must produce their best Daiquiri and either an Old Fashioned or Bloody Mary within the given timeframe.
While the Cocktail Smackdown consists of a series of heats or 'knock out' rounds. Competitors must prepare and present the cocktail called by the judges within a fixed time. The winner being the last contestant 'standing'.
The Innovative Cocktail Open is where a little more creative flair is needed – and if the flaming, smoking creations produced in the 2015 competition are anything to go by – this is definitely an event worth watching.  Here competitors have free reign to create an original recipe cocktail using vodka as a key ingredient and the showcasing of artistic and creative bar skills are encouraged.
NZChefs National President Graham Hawkes says "the competitions are a fantastic chance for bar and restaurant service staff to test their skills, learn from their peers and network with others in the industry".
An important note to all competitors wishing to enter the Cocktail Champion of the Year Award: Interested candidates must compete in both the Innovative Cocktail Open (event F021) AND the Cocktail Smackdown (F028) in order to qualify.
Bartender of the Year Award contenders must enter a trio of events: The Classic Cocktail Open (F020), Mystery Box Cocktail Open (F014) AND Wine and Beer Knowledge Open (F027)
For more details, entry forms and the event timetable see the 'Competitions' page at www.nzchefs.org.nz
NZChefs National Salon
Thursday 28th July – Sunday 31st July 2016,
Logan Campbell Centre, ASB Showgrounds, Greenlane