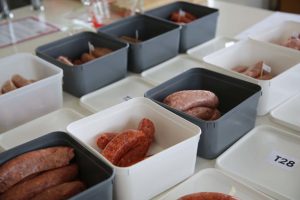 To celebrate a Kiwi summer icon, National Sausage Day will be held on 14 October and New Zealanders are encouraged to dust off their barbecues and ring in the summer season.
A day prior is the announcement of New Zealand's top sausage, to be announced at the long-running Devro Great New Zealand Sausage Competition Awards Dinner.
The Devro Great New Zealand Sausage Competition scouts out the best sausages among 12 categories including beef, pork, poultry, pre-cooked, flavoured, traditional flavoured, black pudding / rounds, continental fresh, continental ready-to-eat, gourmet beef, gourmet pork and gourmet varietal.
The competition is open for all New Zealand producers whose sausages are available for sale at retail across the nation. All entries are judged by a panel of culinary trained chefs, butchers, industry experts and food writers. Sausages are judged before being cooked on their inner and outer visual appearance then once cooked on appearance, aroma, texture, composition and taste.
Judge and President of New Zealand Food Writers, Kathy Paterson explains the quality of sausages in New Zealand to be second to none. "Tasting the sausages that New Zealand butchers have to offer is always a privilege, the butchers and manufacturers have set an extremely high and thorough standard," says Paterson.
"The other great thing about this competition is by putting the spotlight on different types of sausages it shows Kiwis the wide variety out there and perhaps encourages them to try something different."
The sausages awarded the top marks in each category are re-judged against one another and the winner is presented the Supreme Award.
This year, to shine a light on the competition winners, a formal awards dinner is being held on October 13. The black tie event will present the highlights of the competition and be a night to celebrate the small goods industry, how far it has come and the advancements of flavours it has formed.