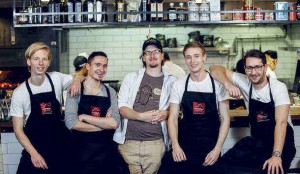 Recipe swapping is being taken to a new level with the visit to New Zealand this month of four of Germany's rising culinary stars.
The young European chefs are being hosted by Deer Industry New Zealand (DINZ) on a four-week tour which will see the visitors experience the tools and techniques of the NZ culinary scene by gaining work experience in the restaurants of some of the country's finest chefs.
As part of the exchange organised by Deer Industry New Zealand, the educative trip provides the opportunity for the European Chefs to work with some of New Zealand's top culinary talent including Meredith's Michael Meredith, Depot's Kyle Street, Logan Brown's Shaun Clouston and Amisfield's Vaughan Mabee.  
The German chefs came out top in a competition organised by DINZ where contestants had to create and present a dish showcasing NZ farm raised venison. "The goal is to further inform our European visitors about New Zealand's farm raised venison offering and to illustrate our wider culinary landscape," says DINZ marketing manager Marianne Wilson.  
"DINZ wants to inspire the German guests to work with the best of our local ingredients – which includes delicately flavoured farm-raised venison." 
Award-winning New Zealand chef Kyle Street is certain the experience will be of great value to the German chefs, who will be able to expand their understanding and appreciation of Kiwi cuisine during their travels through the country. "There are so many tips, tricks and ingredients that are unique to New Zealand. We're looking forward to sharing our expertise on local cuisine with the visiting chefs, who will no doubt provide inspiration to our guys in return," says Kyle.
"It's always great to bring enthusiastic people in to our kitchen to mix with the team here. We love seeing someone come in and be excited to work with us in our restaurant."
Marianne Wilson says the initiative – which has been run as an annual project for the past four years – is designed to encourage European chefs to explore the various ways venison can be prepared outside of traditional European cuisine. "The New Zealand food scene is well known for its innovative methods and ingredients and we're delighted to share local expertise to encourage German chefs to use venison in ways they might not have experienced before." 
In Auckland, the German chefs will work alongside Merediths' Michael Meredith, Depot's Kyle Street, The Grill's Carl Maunder and Neil Brazier at The Sugar Club  
They then travel to Queenstown, were they'll pick up some southern hints from Rata's Kei Suzaki, Amisfield's Vaughan Mabee, Frederic Monnier at The Hilton, and Ben Batterbury at True South.
And in Wellington the chefs will join Logan Brown's Shaun Clouston, Rex Morgan at Boulcott Street Bistro, Laurent Loudeac at Hippopotamus and Jacob Brown at The Larder.  
"New Zealand is the number one worldwide producer of farm raised venison – in the year ending September 2015 exports totalled $174 million," says Wilson. "As Germany is New Zealand's biggest market, representing around a third of our export sales, we are keen to share Kiwi expertise on preparing and cooking venison with our European friends and in turn soak up some of their experience." 
The German chefs are in Auckland from February 9 to 13, Queenstown from February 16 to 20 February, and Wellington from February 23 to 27.