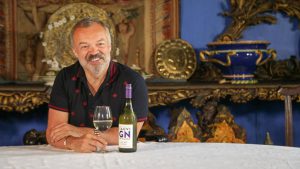 Te Kauwhata -based Invivo announces a new Graham Norton's Own Shiraz and releases its 2016 Graham Norton's Own Sauvignon Blanc following a global sell-out of the vintage in 2015 and accolades from UK reviewers and further abroad.
Graham Norton's Own Sauvignon Blanc has been a great success for the New Zealand winemaker, and production has increased by 50 per cent since 2015 to meet expected demand. Last year, the wine sold out in over 1,910 stores in Ireland, the UK, Australia and New Zealand.
Last month, Invivo cofounder Tim Lightbourne and winemaker Rob Cameron travelled over 20,000 kilometres to Norton's summer home– complete with six distinctive Marlborough Sauvignon Blanc pressings. Then, over a reportedly riotous afternoon blending session the trio created Graham's 2016 Sauvignon Blanc and new for 2016 a Graham Norton Shiraz.
With final production expected to dramatically increase this year, honorary winemaker (and Invivo shareholder) Norton has plenty of reasons to be chuffed.
Speaking about his new 2016 Sauvignon Blanc "It is easy drinking. It's got all the grassiness and zest you expect from a new world Sauvignon Blanc but I like to think it has a bit of an old world finish. – Oh, and it's affordable! "Norton adds: "I'm thrilled!" after blending his new Shiraz.
Lightbourne says "Last year's Graham Norton's Own Sauvignon Blanc was arguably the most successful New Zealand wine launch and is one of the most successful wine collaborations in history. We think this is because Graham is so hands on with the process and is a shareholder in the business – this isn't just another 'celebrity collaboration', rather it's a partnership that will continue to grow."