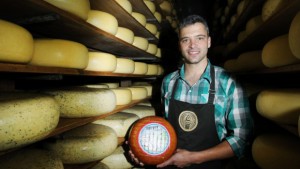 Second-generation Dutch cheesemaker, Miel Meyer of Meyer Gouda Cheese, has taken out the hotly contended Milk Test NZ Champion Cheesemaker Award, for second time in awards history.
The 31-year-old from Hamilton received the award at the NZ Champions of Cheese Awards gala dinner and awards ceremony on March 17 at The Langham, Auckland.
Although humbled and honoured by the recognition, Miel insists it's his Brother Geert Meyer that should claim the title. "I truly think this award should have gone to my brother. While I'm still very hands on and love making cheese, I'm now focusing more on the business side while my brother takes more of a lead in the factory and with the cheesemaking," Miel says.
Like Miel, 35-year-old Geert has spent his childhood immersed in cheesemaking alongside parents
Ben and Fieke. As Dutch immigrants they brought their cheese-making traditions to New Zealand in 1984.
Miel now runs Meyer Gouda Cheese and steadfastly continues to refine the Dutch cheese methods perfected by his parents. A true family affair, Meyer Gouda Cheese "puts quality and consistency first" and it's this meticulous attention to detail that has seen them come out on top year after year. This year saw Meyer Gouda Cheese secure the only perfect score of 100 in the highly competitive competition.
"Miel overwhelmingly impressed the judges with obvious dedication to his craft. His passion and skill are phenomenal," Master Judge, Russell Smith said. "Cheesemaking is not only a science, but also an art. Miel has a strong artistic flair and that translates through to his cheesemaking. He's a true all-rounder who understands all the elements involved in creating the perfect cheese."
Meyer Gouda Cheese also won the Crossroads Wines Champion Flavoured Cheese Award for its
Meyer Smoked Gouda.
The company also took home three Gold Medals in the Flavoured Cheeses category for its Smoked Gouda, Cracked Pepper, and Italian Herb cheeses. The Gold Medals didn't stop there with Maasdam in the European-style category and Fenugreek Gouda in the Dutch-style category also awarded.
This is the second time Miel has received the Champion Cheesemaker Award – the first being 2011 as the youngest person to ever receive the honour.
Now in its 12th year, the 2015 New Zealand Champions of Cheese Awards attracted over 470 cheeses from small artisan producers to large-scale suppliers, judged across 23 categories.
For more information on Meyer Gou Meyer Gouda Cheese visit www.meyer-cheese.co.nz