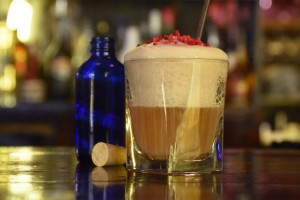 The second annual Flight of the Cocktail event hosted by Auckland venue Orleans is set to take place from the 10th to the 14th of June.
The week long series of events is dedicated to all aspects of learning, enjoying and celebrating the illustrious cocktail through seminars and tastings, and culminates in the Flight Club cocktail competition. The event has plenty of offer both the general public and members of the hospitality industry. From Wednesday 10th to Saturday 13th of June, Britomart's Roukai Lane will be transformed into a lively street party with live music, New Orleans-style street food and a daily offering of three specially crafted cocktails. While the activity in the Lane is free and open to the public, there will also be ticketed events taking place in Racket Bar from 7pm til 8pm each evening, each of which will have a different cocktail theme.
Wednesday will see Tiki Drinks Live in association with Lion mixologist Frankie Walker, whilst Thursday is Molecular Mixology night, a modernist degustation in association with Absolut Vodka. Friday is the night for the American Festival, an evening of fun and games with live entertainment from Two Many Chiefs, and Saturday is Mexico's Margarita Masterclass hosted by Dan King and Adam Neal.
For hospo professionals there will be two seminars a day from Tuesday to Friday, each taught by top industry names and covering a range of different skill levels and topics. These seminars are open to all hospitality workers and are completely free to attend.
Rounding off the week on Sunday, June 14 is the Flight Club cocktail competition, which will see ten bartenders face off against one another over three rounds in a bid to win a trip to New Orleans to experience the world famous Tales of the Cocktail event.
To register your interest for the hospitality seminars and the Flight Club competition, email info@orleans.co.nz.