More fruit, Less sugar – Barker's rejuvenates jam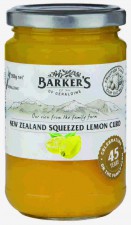 Much-loved Kiwi brand Barker's of Geraldine has refreshed the recipes for its iconic jams to make them fruitier and less sweet.
As the South Island–based family business celebrates 45 years, it has unveiled the biggest change to its range since it began making jam.
"We've been listening to consumers who, like all of us, are becoming more aware of the amount of sugar they consume," says Michael Barker.
"Modern lifestyles are changing and, as a constantly innovating brand, Barker's is changing too. After a lot of research and consumer taste tests, we've developed new jam recipes which are delicious and fruity, but not over-the-top sweet.
The revamped preserves and curds contain ~20% more fruit and ~17% less sugar. A new-look label marks the company's 45th birthday.
"We're delighted with the new recipe which really allows the subtlety of the fruit flavours to come through," says Barker. "Our philosophy has always been to make the best products in the category and we don't believe a jam with 65% sugar is the best any more. And neither do the UK, France or Germany who have all changed their jam regulations in recent times to reduce the minimum sugar content and keep abreast of changing lifestyles.
"Barker's new preserves are far more in keeping with today's way of life while still offering consumers great-tasting products they can enjoy every day."
In decades gone by, before every household had a fridge, jam had to be made with high sugar content to discourage the growth of yeast and mould.
"Now that everyone has a fridge, there is simply no need for jam to be so sweet," says Barker. "We set out to make the best jam, and that has taken us outside the local jam laws, until such time as our food regulations catch up with worldwide trends. To be called a jam in New Zealand and Australia, a product must still contain 65% sugar whereas in France it is now 50%, in Germany it was reduced 6 years ago from 60% to 56%, and the conservative Brits reduced their sugar requirement from 60% to 50% just last year."
Jams in all but name, Barker's have elected to say "preserves" on the label, but they will still be known as jams to all but the legislators!
Ten products feature in the revamped Barker's range, including two new flavours – Barker's Seedless NZ Bramble Berries, featuring boysenberries and blackberries, and Barker's NZ Blueberries with Cranberries.
The pricing is unchanged (RRP$4.39) and the range is available at supermarkets nationwide. The volume also stays the same although the actual weight is slightly lower as fruit weighs less than sugar. There are no added preservatives, colours or flavours.
In the meantime, the sugar content in Barker's three marmalades (NZ Grapefruit & Orange; NZ Lemon & Lime and NZ Mandarin and Ginger) has not been reduced.
"If we get feedback that people would like less sugar in our marmalades too, we will definitely look at that, however the peel in marmalades adds extra bitterness which requires a slightly higher sugar balance."
The Barker family has lived in South Canterbury for six generations on a family farm nestled between the Te Moana River, the Southern Alps and the Canterbury Plains.
Three generations of Barkers have worked in the company which has long-standing relationships with many New Zealand fruit growers.
"Those partnerships have been vital for the success of the business as our growers are experts in growing the best-tasting varieties while we are the experts at turning their products into delicious jams and preserves," says Barker.
Barker's of Geraldine continues to support New Zealand fruit and vegetable growers, with its extensive varieties of jams, chutneys, spreads and syrups. For more information, and to view the full product range, including recipe inspiration, visit www.barkers.co.nz 
.