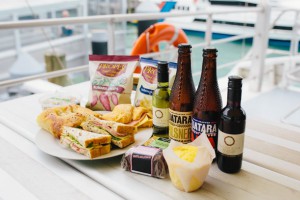 Dubbed one of the best islands in the world by international tastemaker Conde Nast Traveler, Waiheke wine tourers and commuters alike are now well serviced by Fullers' announcement of a new epicurean food and beverage menu and half-hour ferries across its summer timetable.
The revamped on-board menu showcases New Zealand sourced goods including some of the Island's most moreish artisan foods, as well as now cater to a larger range of commuters with vegetarian, vegan and gluten-free options now available.
Additions to the menu include locally produced Passage Rock pinot gris and reds, decadent Waiheke hand-cut fudges and Te Whau Lodge's toasted muesli – a breakfast option usually reserved for guests staying at the exclusive $495 per night retreat.
Alongside the refresh to the on-board menu, the comprehensive summer timetable for the Waiheke crossing sees services start at Auckland from 5:35am and the last late night service departing Waiheke at 12:30am, with over 400 journeys in any week coming to and from the Island.
Izania Downie, Fullers general manager, says that the changes are the result of a collaborative process with frequent travellers, who were each canvassed on their top priorities when making the Gulf crossing. "We tested the menu and vetted our timetable options across a couple of months with the most important people in our business – the travellers. 
"Reliability and a comprehensive timetable was seen as an absolute necessity over summer and the mix of food suppliers and options have been selected following many, many taste tests and a commitment to fresh products and natural ingredients," says Izania.
Other new menu items include gourmet sandwiches and salads, yoghurt and fruit cups, natural high energy snacks, Proper hand-cut chips and Phoenix drinks. Cheese and antipasto platters will also be on offer – a perfect addition to a Tuatara craft beer or glass of Passage Rock wine on a commuter's evening passage.