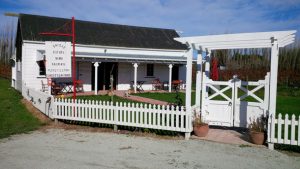 Gisborne's Bridge Estate, one of New Zealand's few single-site Bordeaux vineyards, and one of the country's smallest Cellar Doors, has won the Tourism Eastland Cellar Door of the Year Award 2016.
The Bridge Estate Cellar Door is housed in 120 year old Stables which feature the original native timber lining and beams, creating a unique Cellar Door environment for wine tasting and food.
Planted in 1985 by Denis Irwin, Bridge Estate vineyard continues to thrive, producing the Bridge Estate Cabernet Merlot since 1989.
Bridge Estate was planted in memory of Denis' father Bill who pioneered the modern day wine industry in Gisborne and was responsible for planting the first Mendoza Chardonnay in the district.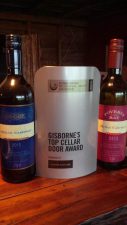 Named after the old steel-arched Matawhero Bridge, the original crossing point over the Waipaoa River; the Bridge Estate Bordeaux blend has been described over the years as possessing "a structure as solid as the bridge it was named after".
Parent company, Poverty Bay Wine Estates Ltd draws its name from one of New Zealand's most fertile and temperate horticultural plains, described somewhat inaccurately by Captain James Cook in 1769, as "Poverty Bay".
Cook's faulty assessment may have been based more on the unfriendly reception from the local tribes than a detailed analysis of climate and growing conditions.
Now 240 years later the Poverty Bay plains produce some of New Zealand's finest red and white wines, as well as fruit and vegetables of all descriptions, year round.
For over a century the Bridge Estate Vineyard site at Matawhero was the horse paddock for the Bridge Hotel, an iconic local pub which, as with many large wooden hotels on the East Coast, succumbed to fire a decade or so ago.
Successive publicans kept their racehorses in the paddock and drovers, staying at the hotel after driving mobs of sheep up and down the East Coast to the nearby Matawhero sale yards, would unsaddle their horses and leave them in the Bridge Hotel paddock overnight.
In 1985, flying in the face of a major grape-pull in the region, the Bridge Estate vines were planted by the legendary Matawhero winemaker, Denis Irwin, from the four traditional Bordeaux varieties of Cabernet Sauvignon, Cabernet Franc, Merlot and Malbec.
These original vines, now amongst the oldest in the region and in New Zealand, continue to flourish in the renowned Matawhero silt loams producing wine of great intensity and dignity.