Thermal town, Rotorua, has just become a whole lot hotter with the completion of a covered – and thermally heated – outdoor dining precinct.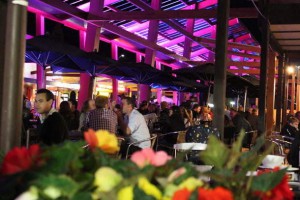 After four years of planning and construction, Rotorua's Eat Street is finally open –although unofficially – to the public. Since December 20, thousands of locals and visitors have enjoyed the new space, which is part of a $2million upgrade. The work was completed at the end of March and the official opening was scheduled for last month.
The Rotorua District Council project includes a covered central walkway and alfresco dining area from Tutanekia Street through to the Lakefront. Retractable roofing allows for all weather out-door dining. There's enhanced lighting, and underfoot, a distinctive geothermal heating underlay to keep the area warm during winter.
The "wood first" theme of the development includes a central timber structure as a focal point, showcasing the Rotorua story of forestry and wood processing. The businesses within the precinct, along with companies who have sponsored the initiative, have contributed a lot of time, effort and resources in trialling the concept and working through the final detail design.
Some comments from Eat Street hospitality operators:   Brew Bar co-owner Paul Croucher: "The response has been overwhelming, exciting for business owners and customers. If you haven't been, do so".
Scotty's Bar owner Scott Toner: "We can now hold concerts outside my bar under cover which has been fantastic for locals and visitors. People love it."
Find out more on http://www.rotoruanz.com/eatstreatupdate/