HACCP Monitoring Systems
Continuous, accurate and efficient data monitoring has become a mainstream requirement and especially now-a-days with the advent of the new food safety act. Testo's range of data monitoring & data logging systems are designed to ensure all these needs are met to the utmost efficiency, allowing accurate measurements and access to data via a multitude of options.
Saveris 2 – Temperature and Humidity monitoring & data logging to the Cloud anywhere, anytime.
HACCP International Approved Testo Saveris 2 system enables users to log temperature and humidity levels easily, anytime and anywhere, without compromising security, or creating bother with time consuming software. All you need is an internet connection, wireless LAN and Web browser.
Saveris 2 is a remarkably simple and elegant solution. The system consists of WiFi data loggers and Cloud based data storage. The testo Saveris 2 WiFi data loggers reliably record temperature and humidity at defined intervals, and transmit the measurement values directly by WiFi to the Testo Cloud. The measurement values stored in the Cloud can be evaluated anywhere and anytime using an internet capable Smartphone, tablet or PC. When limit value violations occur, predefined users will receive email and txt alerts to devices immediately. The data loggers store up to 10,000 measurement values per channel. The display provides information on current measurement values, defined limit values, limit value violations, min/max values and the remaining battery life. The batteries have a lifetime of 24 months and can be exchanged by the user.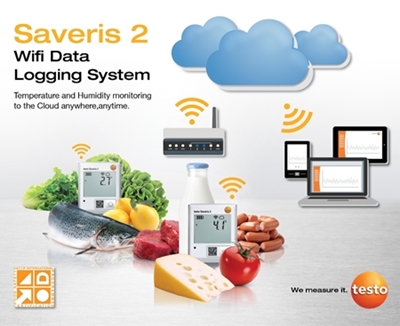 Testo 250 HACCP Management System
No more messy mixed solutions, the Testo 250 is a complete cloud based system with which you can easily define all your individual HACCP processes, and in which all quality data, documentation and measurement values are saved securely and traceably. The digital networking of the different system components allows all the staff members involved in the implementation of the HACCP process to work perfectly together.
Features:
Uninterrupted, paper-free checking
Digital documentation and measurements in the context of HACCP processes
Particularly light, hard-working and robust system
Durable and washable protective case with wrist strap and shoulder strap
Optimized for use in the food sector (HACCP-compliant, waterproof in accordance with IP65)
The Cockpit of the Testo 250 HACCP management system is the intuitively operated nerve centre of your new HACCP world. Via your internet browser, it is here you can set up your complete HACCP plan on the basis of the Codex Alimentarius, determine tasks and correction measures or analyse measurement values in real time. Supplier information can also be imported.
You have all important information immediately in view in the dashboard of the Cockpit: alarms, jobs to be done (with status), measurement value analysis in real time and reports for downloading. At the core of the Testo 250 Cockpit is an innovative tool for creating all HACCP processes and workflows. Process steps, CPs or CCPs can be quickly defined here, and intuitively linked by drag & drop.
For further information visit www.testo.nz or please contact:
Tom Aldridge
Instrumentation & Measurement Business Unit Manager
Phone: 09 526 7557
Email: taldridge@eurotec.co.nz
.