Continuous, accurate and efficient data monitoring has become a mainstream requirement and especially now-a-days with the advent of the new food safety act. Testo's range of data monitoring & data logging systems are designed to ensure all these needs are met to the utmost efficiency, allowing accurate measurements and access to data via a multitude of options.
Saveris 2 – Temperature and Humidity monitoring & data logging to the Cloud anywhere, anytime.
HACCP International Approved Testo Saveris 2 system enables users to log temperature and humidity levels easily, anytime and anywhere, without compromising security, or creating bother with time consuming software. All you need is an internet connection, wireless LAN and Web browser.
Saveris 2 is a remarkably simple and elegant solution. The system consists of WiFi data loggers and Cloud based data storage. The testo Saveris 2 WiFi data loggers reliably record temperature and humidity at defined intervals, and transmit the measurement values directly by WiFi to the Testo Cloud. The measurement values stored in the Cloud can be evaluated anywhere and anytime using an internet capable Smartphone, tablet or PC. When limit value violations occur, predefined users will receive email and txt alerts to devices immediately. The data loggers store up to 10,000 measurement values per channel. The display provides information on current measurement values, defined limit values, limit value violations, min/max values and the remaining battery life. The batteries have a lifetime of 24 months and can be exchanged by the user.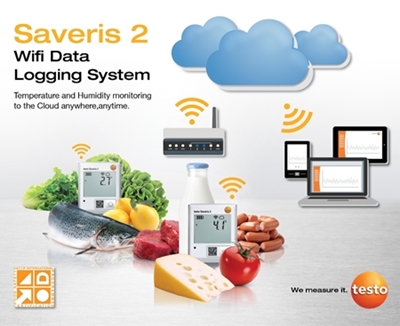 For further information visit www.testo.nz or please contact:
Tom Aldridge
Instrumentation & Measurement Business Unit Manager
Phone: 09 526 7557
Email: taldridge@eurotec.co.nz