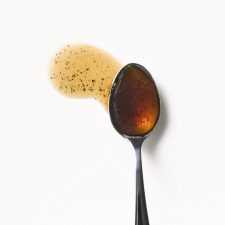 New Zealand's premium vanilla grower and producer, Heilala Vanilla has launched a new alcohol free pure vanilla product.
Developed in conjunction with Massey University food technologists, the Alcohol Free Vanilla with Seeds offers exceptional flavour and aroma while meeting the demands of customers who wish to avoid products containing alcohol.
Heilala Vanilla director Jennifer Boggiss says the alcohol free food product sector has grown in recent years. "There is an increasing number of companies and home cooks who want to avoid alcohol, so we saw this as an opportunity to create a high-quality, pure vanilla solution, "she says. "We worked with Massey University to come up with a way to create this new product while also maintaining the rich, complex flavour Heilala Vanilla is renowned for."
The unique extraction process uses water and vegetable glycerin rather than the traditional method of using water and alcohol.
Developing new, innovative 100 percent pure vanilla products is a key focus for Heilala. Jennifer says there are several alcohol free vanilla products currently available in other countries, however they don't contain vanilla seeds. "In the early stages of developing this product, our market research found being able to see actual vanilla seeds when using the product was just as important as the flavour."
Heilala's Alcohol Free Vanilla with Seeds is suitable for baking, desserts and puddings. The vanilla flavour and aroma also comes through in dairy products including milk, yoghurt and ice cream.
The product already has the seal of approval from the pastry chefs at London's premium doughnut shop, Crosstown Doughnuts. Since opening its doors in 2014, Crosstown Doughnuts has quickly gained a huge following in London, says Jennifer.
"We are very proud that Heilala Vanilla products are being used in their amazing vanilla glazed donuts, which are sold in Selfridges, Wholefoods and on Air New Zealand Business and Premium flights from London to Los Angeles."
In addition, the Alcohol Free Vanilla with Seeds product was recently announced as a finalist in The Foodbowl Novel Ingredients category at the 2016 New Zealand Food Awards.
Heilala Vanilla Alcohol Free Vanilla with Seeds is available in a retail 50ml bottle, and for foodservice, in single ad double fold in various sizes. For more, visit www.heilalavanilla.co.nz/shop