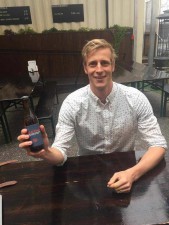 Tinder for hospitality jobs? Well, a newly launched website  is offering the closest thing to it. Helping Hands takes the traditional way of recruiting for hospitality and flips it  on its head.  Job seekers upload a profile with their picture, experience and what they want to do and employers then do the searching. They find a shortlist for their role immediately and then contact the jobseeker directly.
The idea was born out of hospitality veteran Dave McGregor's  frustration in hiring staff when working for a Wellington Bar and Restaurant, The Southern Cross. "There is an enormous amount of wasted effort  in vetting  resumes after placing ads on traditional job sites," he says. "These ads are being seen by a market that is looking for 'employment' as opposed to specific hospo employment and so you have a lot of irrelevant resumes. It's frustrating –  everyone's resume tends to read the same:  'hard working, bubbly and a team player!'" 
Helping Hands launched in January and now boasts over 1000 active job seekers and a loyal following of employers including the likes of the Nourish Group and many smaller operators.  Eddy Lyon of The Villager is one of those operators and explains that using Helping Hands  "… makes hiring so much easier, cutting out Trade Me and Seek, giving us all the details about people so we can approach them is genius". 
"It works for the job seekers too" claims Dave, "it allows them to get in front of a wide range of employers all at once and they are the ones that get the calls."
Like when launching any new technology, it hasn't come without some initial difficulties. "We've had to constantly innovate to ensure that the database of job seekers is always relevant," says Dave. "There is a system now built in where job seekers can update their profile weekly and a back-end juggle makes sure only available job seekers are on the site at all times" 
Currently in  Auckland, Queenstown and having just recently launched in Wellington, Helping Hands is planning to expand to Christchurch early next year, and then the rest of of New Zealand.  Dave has high goals for the business, saying "we believe this is the future for hospitality recruitment".