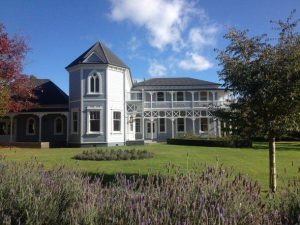 One of Marlborough's iconic historic buildings, the former Marlborough bed and breakfast, Old St Mary's Convent, has been transformed into a beautiful premium luxury lodge.
Marlborough tourism entrepreneurs Chris and Sue Godsiff took over the property in May this year, and after a substantial refurbishment opened The Marlborough Lodge, set on 6.5 hectares of parklands and vineyards, this month.
Originally designed by Thomas Turnbull and built in 1901 for the Sisters of Mercy, the lodge began life as a Victorian convent next to Saint Mary's Church in Blenheim, where it was home to almost 20 nuns.
In 1994, the convent was moved in five pieces to its present location in Rapaura, Marlborough, where restoration began under the expert guidance of renowned architect, Sir Michael Fowler.
The property operated as Old St Mary's Convent B&B until the Godsiff's took over in May this year.
Chris and Sue are no strangers to the luxury tour market. They also own Marlborough Tour Company and Tarquin Luxury Cruises, and see their new 5-star luxury lodge as a perfect fit with their other upmarket products.
"Essentially we saw a large gap in the market for premium luxury accommodation in the popular wine region, in and around Blenheim," says Chris. These Marlborough-born innovators have always had a sharp eye for a tourism opportunity. Former Havelock mussel farmers, Chris and Sue started Greenshell Mussel Cruises 20 years ago, and their tourism businesses have grown ever since.
The Godsiff's live and breathe high level customer service, and constantly instil this into their staff and The Marlborough Lodge mirrors this first class attention to service and detail.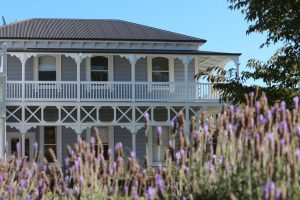 The beautiful, large, wooden Victorian homestead-turned-lodge is an exciting new project for these highly-successful operators. Many of the original convent's features have been restored, including the distinctive veranda surrounding the building on both levels. Marlborough's Smart Alliances designed this year's lodge renovations, and the interiors were designed by eminent New Zealand interior designer Peter Lloyd. Bradley Hornby of Marlborough's Arbour Restaurant also assisted with the kitchen design.
The lodge's 10 luxury suites span two floors, and there's a family room that adds to the two and three-bedroom family suite options. Groups of up to 20 people can also book the lodge exclusively.
The lodge dining room can seat up to 30 guests, and head chef, Jason Brown, hails from Rotorua's Treetops Lodge and Estate. He brings an impressive pedigree having previously worked the kitchens of Capella Lodge on Lord Howe Island and the prestigious Wharekauhau Lodge in the Wairarapa.
At Marlborough Lodge there's a big emphasis on offering the best of local and seasonal food. Naturally delicious fresh Marlborough seafood is right up there among the offerings, as are meats and an abundance of produce from the extensive lodge gardens and surrounding farms.
"The focus is on flavoursome, fusion of styles to highlight the best Marlborough has to offer," says general manager Peter White.
"It is such an exciting time in Marlborough and I couldn't be happier to be part of a project like this," he says. "The lodge will set a new standard for accommodation in this area and give those looking for luxury accommodation a reason to stay a while."
"America is a big market for us, as is Australia, as well as the UK and Asian countries." Kiwi luxury travellers and businesses will also be targeted, and Peter's hoping that the lodge's expansive private grounds and luxurious atmosphere will also attract premium business events and upmarket weddings.