Typically, ghost kitchens prepare meals when they're ordered in a commercial kitchen that doesn't have a dining area or utilise a restaurant kitchen mothballed due to lockdown restrictions. Setting up a delivery service is costly, so many ghost kitchens use third-party delivery services.
According to Reportlinker, the online food delivery services global market will reach $192.16 billion by 2025. Ghost kitchens align themselves with the times and meet the growing demand for food delivery. Urban residents and busy, young consumers were the first to accept cloud kitchens. In normal circumstances, it may have taken years for suburban and older consumers to embrace virtual restaurants. However, the coronavirus pandemic sped up the adoption life cycle, providing ghost kitchens with universal acceptance almost overnight.
Since they can't rely on walk-in customers, ghost kitchens create strong social media presences and invest in digital advertising tactics. Virtual restaurants are not home chefs selling their wares online, nor are they distributors of prepackaged foods. They often operate on the same scale as sit-down restaurants and craft new menus.
Most virtual restaurants operate out of a commissary kitchen. A commissary kitchen is a complete, commercial kitchen space that is available for rent. While you can share a commissary kitchen, most virtual restaurants rent private commissaries because they need the space at different times than other typical commissary users. For example, caterers and mobile kitchen operators need the commissary to prep meals in advance for customers such as health facilities and businesses that out source catering, and dark kitchens need it during traditional restaurant hours.
---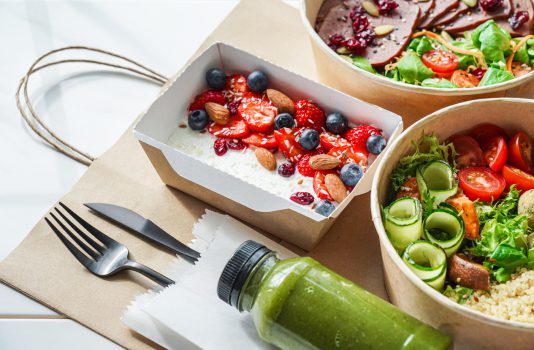 Are Ghost Kitchens Profitable?
The digital ordering and delivery sector has grown 300% faster than dine-in traffic over the past five years in America, indicating that ghost kitchens are an extremely profitable business venture. Ghost kitchens are a particularly profitable alternative to owning a dine in restaurant in high-rent areas saturated with eateries. Virtual restaurants save money on startup costs, building upkeep, and front-of-house staff. The biggest threat to a cloud kitchen's profitability are often the fees imposed by third-party delivery apps, which can extract between 15% to 30% of each order.
---
Ghost Kitchen Business Models
Just like brick-and-mortar restaurants, ghost kitchens vary in scope and dining style. Below Hospitality Business explains five different virtual restaurant business models.
Independent Ghost Kitchen Business Model
An independent ghost kitchen prepares a single menu to order in a kitchen without a storefront. Most independent ghost kitchens partner with multiple third-party delivery apps. Independent ghost kitchens leave prepared orders for the partnered driver to pick up at the front desk. They are reliant on third-party apps to receive orders and do not own their customers' data. Not owning customer data means you can't interact with or retain customers without your partnered delivery services.
Multi Brand Ghost Kitchen Business Model
Multi brand ghost kitchens receive orders and make deliveries in the same way as single brand ghost kitchens. The difference between multi and single brand ghost kitchens is their scale. A multi brand company will use a single kitchen space to prepare multiple virtual restaurant menus.
Preparing multiple virtual dining concepts increases your total orders and broadens your customer reach. While consumers are wary of physical restaurants claiming to have both the best sushi and spaghetti in town, the anonymity of satellite kitchens allows you to prepare vastly different menus in the same space without raising scepticism.
Operator Managed Ghost Kitchen Business Model
When brick-and-mortar eateries prepare a virtual restaurant's menu in their kitchen space, they're called operator managed ghost kitchens or virtual franchises. They won't list the virtual concept on their physical menu. Customers place their orders through third-party delivery apps or the virtual concept's central food order website/mobile app.
When operators allow virtual restaurant patrons to pick up their orders, they capture customers who typically shy away from ghost kitchens to avoid delivery fees. Integrating a virtual franchise is especially advantageous for bakery and cafe owners who don't rely on their kitchen during the day.
Mid Ground Ghost Kitchen Business Model
Mid ground ghost kitchens prepare orders in a kitchen with a small storefront where customers can pick up their order if they prefer. Many mid ground satellite kitchens are adopting a drive through only, off-premise dining business model, but a simple pickup window suffices. While having a pickup area may cost you a bit more in rent, you're still likely to take home more of your profits, because delivery services can take up to 30% of each order.
People can place their orders directly through mid-ground ghost kitchens, providing operators with ongoing access to their customers should they change delivery services. Additionally, mid ground ghost kitchens have a wider clientele base since many consumers want the convenience of eating at home but don't want to pay a delivery fee.
Brand Owned Ghost Kitchen Business Model
Brand owned ghost kitchens sign on with a single third-party delivery service and agree to only take orders through their platform. Increasingly, third-party delivery services are pushing for brand ownership, because it gives them a monopoly on the delivery market and control over the businesses that use them.
Since it is the third-party delivery company, not the ghost kitchen, who owns customer data and controls customer access, businesses that sign brand owned deals are at the mercy of the third-party delivery service they use. The delivery service can continually raise fees, because the virtual restaurant can't make a change without losing all their customers and having to start over.
Being locked into one delivery service has its significant risks, but it also comes with rewards. If your ghost kitchen is brand owned, the delivery app will want you to succeed and will often push more business your way. You will probably appear higher in the app's search results page and receive other advertising aides.
Advantages of Ghost Restaurants
Here are some advantages of operating a ghost restaurant over a traditional eatery:
Concept Flexibility: Being digitally based means you can change your restaurant concept without having to update signage or decor.
Adjustable Menu: If want to experiment with a new dish, an ingredient becomes too expensive, or produce goes out of season, you can swap out bill of fare items without having to reprint your menu.
Smaller Investment: Many expensive aspects of operating an on-premise dining establishment (such as decor, signage, dinnerware, and seating) don't apply to virtual restaurants.
Reduced Staff: Satellite kitchens eliminate front-of-house staff, allowing operators to focus on hiring and keeping quality chefs and investing in premium ingredients and appliances.