Increase your Profits with the world's most efficient Outdoor Heater from the Specialists in Outdoor Heating – Outdoor Concepts
Keep your customers comfortable this winter! Infratech™ mounted outdoor heaters produce concentrated heat using discrete electric quartz elements. They produce warmth without the bright, harsh light, and are available in a variety of lengths and strengths depending on your outdoor seating situation, area to heat and mounting height.
Once installed – they are easy to operate. No complicated valves, ignition components, or extra moving parts, and best of all – no need to refill a heavy LPG bottle.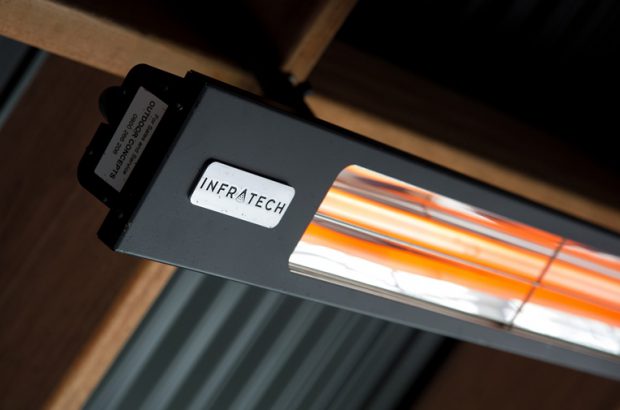 Infratech™ Electric Heaters are cost-effective and eco-friendly. There are no fumes, sounds or toxic emissions. These outdoor heaters convert 90% of energy into radiant heat. In windy and drafty conditions gas heaters have the tendency to blow out – something you don't have to worry about with Infratech™ Electric Heaters.
The heaters are very directional and will warm anything in their path. When your customers are now cosy you can adjust the temperature to a comfortable level.
Of the the greatest features of the Infratech™ Electric Heater is it's elegant, minimalistic design that provides a solution for restaurants, cafés or bars without compromising the look. The Infratech heaters can also be mounted inside or out to ensure your customers are kept cosy no matter where they are.
Contact Outdoor Concepts for a no obligation quote, or pop into our showroom to see them in action yourself:
Outdoor Concepts
77 The Strand, Parnell, Auckland 1010
Ph: 0800 266 206
sales@outdoorconcepts.co.nz
www.outdoorconcepts.co.nz