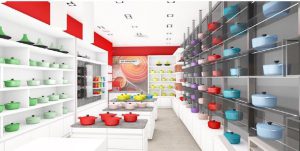 On Monday, 19th December 2016, premium French cookware brand Le Creuset will open the doors to their first stand-alone flagship store in New Zealand.
Located in the heart of the city on 23 Customs Street East, Auckland CBD (corner Fort Lane), near the soon-to-open edgy Snickel Lane.
The 56sqm space has undergone a complete refurbishment and will offer customers the opportunity to browse and purchase the entire Le Creuset collection.
The store has been fitted out with silver grey oak tables and flooring and white melamine. This creates a neutral backdrop on which the extensive palette of Le Creuset colours take centre stage. A visible kitchen is at the focal point of the store. Product and cooking demonstrations will feature daily creating a unique shopping experience for Auckland customers.
The opening of the Le Creuset flagship store is part of an ambitious global plan to extend its presence and increase their number of international stores from the over 300 that are currently trading.
"This is a milestone for us in New Zealand. We are absolutely delighted to be able to welcome local food-lovers in our own boutique and offer them first-hand advice on our collection. We have an enthusiastic team who cannot wait to open the doors!" – Yoann Gosselin, Director, Le Creuset Australia & New Zealand.
Le Creuset originated from France in 1925 and is renowned as the global leader in premium quality enamelled cast iron cookware. Le Creuset offers an extensive array of kitchen products including 3-ply Stainless Steel, Toughened Non-Stick, Stoneware, Kettles, Textiles and wine accessories along with its innovative range of silicone accessories and utensils. Cast Iron, 3-Ply Stainless Steel and Toughened Non-Stick products come with a lifetime guarantee.
Le Creuset is the cookware brand that is often selected and used by many of the world's best chefs. With unparalleled quality at the forefront of everything Le Creuset does, its products are sold in more than 70 countries around the world, including the UK, US, Japan and Australia.