Feel like your menu needs a twist? Bloom's Pretzels has the answer; each pretzel that leaves our bakery has been hand-twisted with premium ingredients. A trusted recipe with information and encouraging support to create mouth-watering pretzels, these will be the perfect artisan addition to your menu.
The Bloom's Pretzel range includes:
CLASSIC PRETZEL
Our Classic Standard Pretzel is our most popular size, for sandwich creations and with enough belly to add savoury toppings or cover with sweet sugar, they're ideal for cafes, hotels, luxury lodges and bars looking for a dazzling golden point of difference.
JUMBO PRETZEL
Behold, the Jumbo Pretzel, this pretzel knot has over a metre string length and is large enough to serve 3. It's the perfect limited-edition creation for your next event!
MINI PRETZEL
If you're looking for a pretzel but our classic is just a bit much – we've got you sorted here. Mini Pretzels are perfectly suited to caterers, cafes and those looking for a bite sized twist, with strong visual appeal.
PRETZEL BITES
Our hand-cut pretzel bites are the perfect pieces to companion dips, sauces and snack tables at your cafe, bar or next catering event.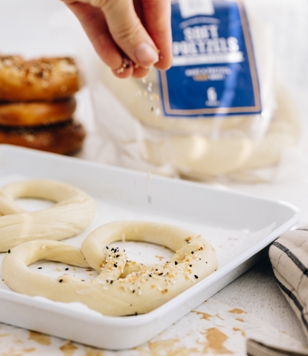 PRETZEL SALT
Sourced all the way from Europe. This Original Pretzel Salt is ideal for topping our soft pretzels. These uniform compressed white salt crystals sit well when sprinkling and don't melt during the baking process unlike regular salts.
Bloom's Pretzels come in a free-flow frozen pack of ten, cooking tips and instructions are included with each wholesale order, or you can call our technical assistance team anytime with questions on 09 356 7455 or sales@bloomspretzels.co.nz