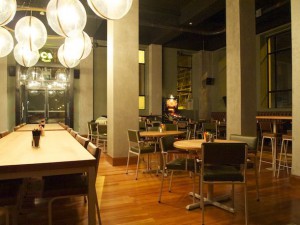 Acoustics can make or break a hospitality business. Hospitality Business interviews Sam Crofskey from C1 Espresso Café in Christchurch about his challenges with acoustics at his popular café where loud music is part of the value proposition.
Sam Crofskey reopened his C1 Espresso Café in Christchurch post-earthquakes in a beautiful heritage building on the corner of Tuam and High Streets in November 2012. The first thing Crofskey wanted to do was let people know how strong and safe the building was, and how beautiful it was too.
"After living through two earthquakes, we wanted people to feel safe. Being a concrete bunker, there was no doubt about that," Crofskey says. Seeing the building's beauty was a little trickier, though. Many of its features had been obscured by 1960s-style sound insulation which had become ineffective, so the C1 team set about removing the offending panels and carpets, although they're features known to deaden noise.
"We knew there'd be consequences acoustically but we had to do it and thought we'd rectify the situation if and when needed. Then the complaints started. My initial and private response, after the city having been through two earthquakes was, 'This is a first world problem.' But the customers were right – the acoustics were really bad."
C1 Espresso can seat 300 people, and loud, good music is served up liberally and regularly with equally good coffee. "We're all about playing loud music but not about being noisy. We wanted good volume in the foreground but never wanted the music to be annoying. I've realised you can't achieve that without paying attention to acoustics. The noise was becoming really offensive, and made everything feel tense. Without adding some form of sound treatment, we would have gone out of business," Crofskey says.
Marshall Day Acoustics Ltd in Christchurch was called in to advise on options and for three days over Easter last year, acoustic treatments were installed. The total project, including consultation and materials cost approximately $8000.
"Basically, all horizontal surfaces were treated. Ornate cornices were restored, a lot of what looked like big Pink Batts – but in black – went into the ceiling, and insulation was applied to the top of the bulkheads. The result was amazing – that feeling of tension immediately disappeared. It was money well-spent."
Ironically, for an operator known for providing quality coffee, Crofskey believes there are more important things people want when they visit a café. "It's about people coming together, spending time together, sharing stories, and catching up. You can't do that in a noisy environment. Good acoustics means being able to listen to good music played loud. Smashing Pumpkins goes down well. But if you have bad acoustics, all you can listen to is Kenny Gee."