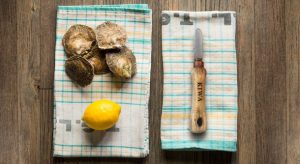 The former MasterChef winners are also hitting foodie TV limelight once again, with their new 10-series TV show, Karena and Kasey's Kitchen Diplomacy, broadcasting on TV One. The timing is perfect for the pair to keep the crowd pumping at Auckland Fish Market on Saturday August 20 while they taste test premium Kiwi seafood and wine.
At 2pm, the feature event is the inaugural New Zealand Oyster Opening Championship, which gives the winner automatic entry into the World Oyster Opening Championship in Ireland, in September 2016. The Galway International Oyster and Seafood Festival had humble beginnings in 1954 and it has become one of the largest celebrations in Ireland – believed to be only surpassed by St Pat's Day.
Organiser of the New Zealand Oyster Opening Championship, Japanese entrepreneur Harry Hakuei Kosato of La Ditta Limited anticipates there will be about 20 Kiwi oyster openers shucking their way to stardom.
"The New Zealand winner will receive a travel prize package to attend the Japan Oyster and Seafood Festival and Japan Oyster Opening Championship on September 18," he says.
"On that day, a Guinness World Record attempt is scheduled."
From Tokyo the Kiwi and Japanese champions will be flown to Galway to compete in the World Oyster Opening Championship on September 24.
All entrants will take home 30 competition oysters and a prize pack including a unique Japanese oyster-opening knife and a bottle of wine.
For seafood lovers, a free festival runs from 11am to 11pm and guests can taste local seafood and wine for the over 18-year-olds.
Additional action includes a fun event, the All Shellfish Opening Championship that will leave no clam, mussel, scallop or oyster close-lipped on the day.
The Auckland Fish Market restaurant will have a special festival menu available for lunch and dinner that showcases the shellfish companies partnering with the festival.
Entry in the New Zealand Oyster Opening Championship costs $25 and close August 10, 2016.
To enter contact Nicky Remkes, nicky@tomdickandharry.org.nz or phone 021 477 763