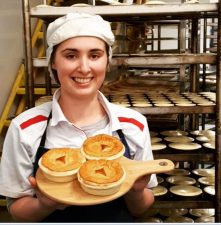 The first of this year's NZ Bakels pie champions has been announced with Stephanie Morrison of Ten O'clock Cookie Bakery Café in Masterton winning Apprentice Pie Maker 2017. She will be presented her award at the NZ Bakels Supreme Pie Awards in Auckland on August 1.
Stephanie is a new apprentice enrolled with the NZ Bakels Training School and works under the guidance of Jenna Mangin.
"We are very proud that one of our own students has taken first place this year," said NZ Bakels managing director Brent Kersel.
Second place in the competition went to Ty Lim of Kuna Bakery in Orewa and third place respectively went to Amber-Jade Wynyard of Coupland's Christchurch.
The Apprentice Pie Maker Award gives aspiring bakery trainees a chance to test their skills at an entry level baking competition. Each competitor has to submit two identical pies in two categories: mince and cheese and gourmet meat for judging.
With only two months into her apprenticeship, Stephanie says this was her first time entering the Apprentice Pie Maker competition and she was really surprised she won.
"It's awesome as. I didn't really expect to win."
She's quick to credit the win to learning from very skilled bakers; and to her pastry which she worked hard at to get an even lift and even colour, and to the café's Thai chicken recipe that she used for her gourmet meat pie.
"I put a lot of effort into making my pie look awesome and then taste awesome. The flavours in the Thai chicken filling were pretty tasty and definitely more exciting than a mince and cheese pie; it had a bit more of a bite to it."
"I like creating interesting and tasty things and I like the way people look at your products when they buy them and they get excited to eat them. It makes you feel good if it looks good and even better, if it tastes better."
Stephanie has been working in pie shops since she was 15 and is totally focussed on a career in the baking industry which she plans to use to take her around the world to learn and compare different baking techniques in other countries.
She's also now got her sights firmly fixed on next year's NZ Bakels Supreme Pie Awards. "I'll definitely be entering that next year and give it a go."
Stephanie admits her favourite pie is now the Thai chicken. "It's delicious, absolutely delicious!"
The Thai chicken pie is a relatively new addition to the menu at Ten O'clock Cookie Bakery Café and since word of Stephanie's win got out on Facebook it has been proving very popular with customers who clearly want a bit of spice to warm their winter meals.