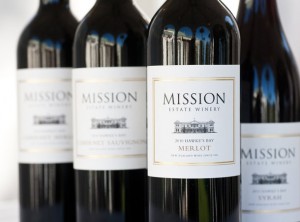 With an unprecedented run of successes, New Zealand's oldest winery, Mission Estate, has certainly started the year off with a bang – picking up a series of prestigious awards, both locally in New Zealand at the Easter Show Wine Awards 2015 and from around the world, at the China Wine & Spirit Best Value Awards 2015.
A selection of wines across the Mission Estate and Reserve range were judged and awarded Double Gold, Gold, Silver and Bronze accolades at both these events.
Peter Holley, CEO of Mission Estate, says: "As the oldest winery in New Zealand, we're very proud of our rich heritage and winemaking skills and it's very rewarding to see our passions are being recognised not only here in New Zealand but further afield around the world."
Much of Mission Estate's success is also down to the experienced winemaker, Paul Mooney and his dedicated wine making team. Paul was originally mentored by Brother John, who learnt the art of wine making in Bordeaux during the 1960s.
Paul says, "we still use many of the original philosophies that the Brothers applied to making Mission Estate wines and this will always be something that we will continue to do, as we remain committed to producing excellent, great value-for-money products for people to enjoy, the world over. These awards are recognition of a fantastic 2013 vintage and of the work we do to bring the wines to life."
The winning lineup is:
Easter Show Wine Awards 2015:
Gold
Mission Estate Reserve Cabernet Merlot 2013
Mission Estate Reserve Syrah 2013
Silver
Mission Estate Chardonnay 2014
Bronze
Mission Estate Reserve Cabernet Sauvignon 2013
Mission Estate Cabernet Franc 2013
China Wine & Spirits Awards 2015:
Double Gold Medal
Mission Estate Pinot Noir 2013
Mission Estate Cabernet Merlot 2013
Mission Reserve Cabernet Merlot 2013
Mission Reserve Syrah 2013
Gold Medal
Mission Estate Gewurztraminer 2013
Silver Medal
Mission Estate Chardonnay 2013
Mission Estate Merlot 2013
Bronze Medal
Mission Estate Pinot Gris 2014