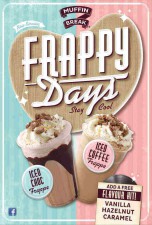 Throughout the summer Muffin Break stores nationwide will be decked out with themed tray liners, bunting flags, counter mats and point-of-sale signage for a Frappy Days summer frappe campaign. The in-store point-of-sale campaign is designed to reflect a 1950s theme, highlighting the simplicity, freedom and fun of their new frappe range.
Customers can choose their own signature freshly-blended frappe with a choice of two base flavours of chocolate or coffee and three add-on options of either; vanilla, hazelnut or caramel syrup to create their own unique treat.
Muffin Break Marketing Manager Gemma Fitzsimons said the new range will give customers the freedom to create their ideal summer drink. "We know our customers enjoy simplicity when it comes to their cold beverage tastes, with our traditional Iced Chocolate and Iced Coffee flavours very popular year round. For this campaign our aim is to create real, uncomplicated and classic handmade drinks for customers to enjoy at a time they traditionally look for refreshing options to escape and relax from the heat".
As for all Muffin Break hot and cold beverage options, customers who opt for soy milk in their frappe will not be charged extra for soy. Muffin Break launched its 'no charge for soy' campaign in February 2013, breaking the industry-wide trend of a soy milk surcharge that is imposed by most coffee brands, which typically charge consumers 60 cents more for soy per cup of coffee.