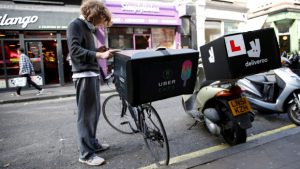 A new online food delivery service has launched in Auckland allowing central city workers or residents to get meals from more than 70 restaurants without leaving the office or home and across the ditch a similar offering has taken off in Sydney and Melbourne reflecting a growing new trend in foodservice.
UberEATS, a smartphone application from car ride sharing service Uber, is designed to give people access to a broader range of food than could be otherwise available for delivery.
The service was launched in the United States and Australia last year and now people in central Auckland – "from Ponsonby to Parnell, Newmarket to Eden Park and everywhere in between" – can use the app to have food delivered from more than 70 outlets.
Delivery is available between eight in the morning and ten at night and costs $5.99 over-and-above the cost of the order. Eateries involved include Best Ugly Bagels, run by chef Al Brown, along with Al's Deli, upmarket Mount Eden restaurant Molten, and dessert restaurant Miann. Brown said he was looking forward to UberEATS getting off the ground.
"We often serve up a platter of bagel sandwiches to share during our morning meetings and we love that UberEATS is going to make this a more convenient option for other local businesses," Brown said. While not every item from each of the 70 restaurants will be available for delivery, an Uber spokesman said the majority of menus would be on offer.
Uber says it plans to "soon" expand the service into more parts of Auckland, although the company did not provide a specific timetable for this. As part of its launch, UberEats is offering free delivery for customers' first three orders until the end of April.
"Auckland's food scene is thriving, from night time street food or artisan cafes and bistros to award-winning restaurants, locals are spoilt for choice when eating out. And now they are spoilt for choice when dining in," said UberEATS Australia & New Zealand general manager Simon Rossi.
Meanwhile in Sydney and Melbourne
On-demand delivery service for high quality restaurant meals, Deliveroo has also launched in Sydney and Melbourne.
Founded in 2013 by William Shu and Greg Orlowski, the UK start-up has established partners with premium restaurants that wouldn't traditionally offer delivery.
The service is powered by Deliveroo's proprietary technology and logistics platform which typically sees orders delivered within a 30 minute timeframe.
To date, the start-up has raised A$280m (US$200M) from investors including Accel, DST Global, Greenoaks Capital, Hoxton Ventures, Index Ventures, JamJar Investments and Hummingbird Ventures.
Since the start of 2015, Deliveroo has expanded to 50 cities across 12 countries with over 5,000 restaurant partners delivering through the platform worldwide. As part of the Australian launch, two offices have been set up in Sydney and Melbourne comprising over 40 staff.
Levi Aron, Deliveroo's Australian country manager said that the company wants to change the way Australians think about home/ office delivered food.
"Over the last five years Australia has really become a foodie nation, developing a fascination with food and embracing everything from fine dining, festivals to food trucks," says Aron.
"The response to date by restaurants has been fantastic, with Deliveroo's technology driven approach to premium food delivery resonating with restaurant owners looking to grow their business by offering a new category of high quality and reliable delivery service that enhances their brand and the experience they can bring to customers."
A number of high profile Melbourne and Sydney restaurants have already signed up to Deliveroo including 38 Chairs, Uncle, Huxtaburger, Sugarcane, Spice Room and The Roosevelt.
In Melbourne, Deliveroo currently services St. Kilda, Prahran, South Yarra, Toorak, Richmond, while in Sydney, the company is currently focused on the Sydney CBD, Haymarket, Potts Point, Kings Cross, Woolloomooloo, Darlinghurst, Elizabeth Bay, Rushcutters Bay and Surry Hills.
Further expansion is planned over the coming weeks across both cities.
In addition to Melbourne and Sydney, Deliveroo has also launched in Hong Kong, Singapore and Dubai.
"We've experienced extraordinary demand for our service as consumers want high-quality food delivered quickly and restaurants seek a new significant source of revenue," says co-founder and CEO of Deliveroo, William Shu. "It's been phenomenal to see the business quickly expand from London to European capitals and some of the most exciting cities in Asia Pacific and the Middle East."