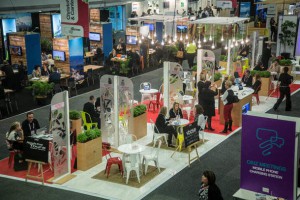 A new look Luxury Collection is set to debut at CINZ MEETINGS 2016 in June, promising the best of New Zealand in one standout location.
Now in its third year, the Luxury Collection has evolved to showcase the finest end of the New Zealand business events product with everything from boutique lodges to luxury yachts. Exhibitors for 2016 include award-winning host TIME Unlimited Tours, Pacific Jemm luxury super yacht in Queenstown and Luxury Lodges of New Zealand.
"Business event organisers looking for the five-star wow factor will find everything they need in the Luxury Collection," says Conventions and Incentives New Zealand (CINZ) Chief Executive Sue Sullivan. "New Zealand has established an international reputation for exceptional, high-end meeting and incentive offerings, and the Luxury Collection shows what sets us apart."
The stand's stylish new design features contemporary dark-stained solid timber and striking destination graphics. Booths will be set within a premium island space, accentuated by a five-metre high designer curtain and plush black carpet.
MEETINGS' pre-scheduled appointments on 14 and 15 June allow buyers to meet a choice of 200 exhibitors from 19 regions of New Zealand all under one roof, with 35 appointments across two days.
Over 100 Australian hosted buyers will be treated to experiences in eight regions across New Zealand on weekend familiarisation tours before MEETINGS, plus a day out in the host city with Auckland Convention Bureau on Tuesday 14 June.
Tourism New Zealand and Air New Zealand are bringing influential international buyers and media to MEETINGS from North America, China, India and South East Asia. More than 300 day buyers are also anticipated over the two days of MEETINGS, as well as 100 New Zealand event organisers to be hosted in Auckland.
For more information and to apply to attend CINZ MEETINGS 2016 go to www.meetings.co.nz