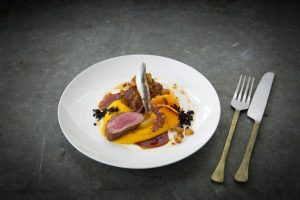 Beef + Lamb New Zealand are calling for chefs to get creative in the kitchen for the 21st annual Beef and Lamb Excellence Awards.
Launched in 1996, the Excellence Awards have proven to be the perfect vehicle for encouraging chef development and creativity in kitchens around New Zealand.
2016 Ambassador Chef, Andrew Clarke of Victoria St Bistro in Hamilton believes the programme is a great incentive to create innovative dishes with beef and lamb and to sometimes, move on from old favourites.
"We try to use a range of cuts in our dishes which are interesting for both staff and diners, not to mention cost effective," says Clarke. "Our staff, both front and back of house, are proud to hold the award as everyone has to do their part to achieve it."
All restaurants serving exceptional beef and lamb cuisine are invited to apply for the Award and once entered, culinary trained experts anonymously assess each restaurant twice. The judging is based on presentation, taste, degree of cooking and ingenuity of the dishes.
If restaurants reach the standard they are awarded a gold rimmed plate which recognise the skill, expertise and talent of restaurants and chefs alike.
The Excellence Awards programme gives long-term holders credibility and a point-of-difference through publicity and a loyal following, especially as new talent emerges in New Zealand's ever-growing food scene.
Equally as important, the gold plate serves as a reliable indication for locals to find quality restaurants while providing a guiding hand for tourists looking to experience the best of New Zealand classics.
"The gold plate is a trusted hallmark of quality for diners. It signifies a high standard when choosing beef and lamb and consumers can expect the best in quality, cooking and innovation," says Clarke.
As well as acknowledging restaurants that have reached the highest level of beef and lamb cookery, five chefs who perform highly in the Awards assessment process are chosen as Beef and Lamb Ambassador Chefs, of which are highly regarded in the industry.
Applications are invited from 1st July 2016. For more information or to apply for the 2017 Award, visit nzexcellenceawards.co.nz
Photo above: Dish by Andrew Clarke, Victoria Street Bistro, Hamilton.