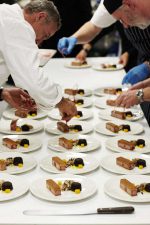 The New Zealand Anchor Food Professionals team left New Zealand for Erfurt, Germany last week to compete against some of the best chefs in the world at the 2016 Culinary Olympics.
Held from 21 to 26 October, the Culinary Olympics will host more than 2,000 chefs from 40 nations, and this year's event marks the first time a New Zealand team has entered the prestigious competition since 1988.
Team Chef de Mission Graham Hawkes, who represented New Zealand at the 1988 Culinary Olympics, says the team is thrilled to be representing New Zealand and that the competition presents more than the chance to win a medal.
"The opportunity to travel to the ultimate culinary competition doesn't come around very often. We're excited to not only learn from the talented chefs we'll be competing against, but also share with them the ingredients and techniques that enable to us produce the high calibre of Kiwi cuisine that New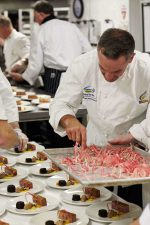 Zealand is known for."
Fonterra is sponsoring the team through its Foodservice business, Anchor Food Professionals. Its Global Foodservice director Grant Watson says the Co-operative is a proud supporter and wishes New Zealand's Culinary Olympians all the best for Germany.
"New Zealand has a phenomenal culinary talent and after a 28-year absence from the competition, we're delighted to support the team in showcasing this talent on the world stage."
The New Zealand Anchor Food Professionals team boasts a mix of award winning chefs from around the country, including Corey Hume of Blanket Bay Lodge, Queenstown;, Darren Wright of Chillingworth Road, Christchurch; Ganesh Khedekar of NZMA; Auckland, John Kelleher of AUT, Auckland; Mark Sycamore and Stephen Le Corre of Ara Institute of Canterbury, Christchurch; and Richard Hingston of Christchurch Casino.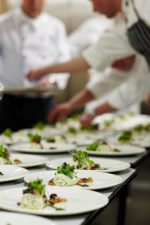 Mr Hawkes says being geographically dispersed has meant the team had to get creative with its Olympic standard preparation. "Over the past 15-months the team has gathered regularly to host a series of fine dining banquets around the country. These banquets have enabled us to develop our competition menu, and the all-important teamwork necessary to compete in a high calibre competition such as the Culinary Olympics."
The Culinary Olympians' Farewell Feast was held on 13 October, the eve of the Anchor Food Professionals' team's departure for Germany, with 110 select diners experiencing the stunning menu created by the team for the toughest food critics in the world.