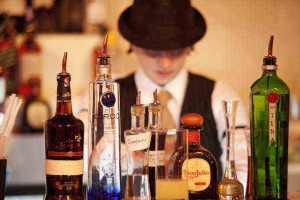 Diageo Reserve WORLD CLASS, the search for the world's best bartender, has returned to New Zealand with the national final set to take place in Auckland on Monday, 29 June.
Auckland is currently strongly represented in the competition with four entrants gearing up to take part in the final. Alison Kwan from 1885 Basement, Bill Scott from Mexico, Lorietta Bahr from Matterhorn, Philip Spector from Racket and Ray Letoa from Roxy in Wellington have been honing their skills in their bid to become New Zealand's World Class Bartender for 2015.
Using some of the finest spirits from the Diageo Reserve luxury portfolio – Ketel One and Ciroc vodkas; Tanqueray gins; Johnnie Walker whiskies – the bartenders have to date been tested on their ingenuity, skill and knowledge of spirits.
Celebrating cocktail culture and the art of bartending, Diageo Reserve WORLD CLASS is widely recognised as a mark of sophistication and distinction of international fine drinking culture by bartenders and customers alike. Considered the most esteemed mixology competition on the globe, approximately 15,000 mixologists from some of the world's most prestigious bars have entered this year.
Frankie Walker, Lion Luxury Spirits Ambassador commented, "More than just a showcase of the world's best bartenders and their craft, Diageo Reserve WORLD CLASS tests every aspect of the bartending profession and represents the pinnacle of excellence within the industry.
"New Zealand is home to a number of exceptional bartenders and we're looking forward to Diageo Reserve WORLD CLASS 2015 where we hope to once again put our national titleholder, and New Zealand, on the global map," says Walker.
The winner of the New Zealand final will receive an all-expenses paid trip to the Diageo Reserve WORLD CLASS Global Final which is set to be held in South Africa in late August. At that competition, they will compete against other national titleholders in a bid to win the coveted title of Diageo WORLD CLASS Bartender of the Year 2015.