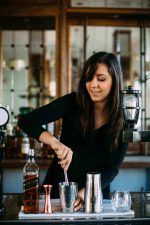 New Zealand's most talented bartenders have been announced and are set to share their cocktail creations with New Zealanders at a unique pop-up bar, World Class House, coming to Auckland in August.
Lorietta Bahr of Bedford Soda & Liquor (Auckland), James Millar of The Gin Room (Auckland), Jonny Cresswell of Revelry (Auckland), Kneale Brown of Matterhorn (Wellington), and Ray Leota of Roxy (Wellington), have been named as the top bartenders in the New Zealand final of Diageo World Class, one of the world's most premium bartending competitions and largest cocktail education programme.
Currently in its eighth year and activated across 57 countries worldwide, World Class is considered the Olympics of bartending and is a truly international celebration of the flair, creativity and skill of the bartender.
World Class House is the final stage of the New Zealand leg of the competition, an experiential pop-up space that will allow New Zealanders the chance to immerse themselves in a bespoke, vibrant drinking experience and taste premium cocktails designed by the country's most promising talent.
The unique event will pop up in the more than 100-year-old iconic Ponsonby Post Office building, where the top five will compete over three days in a series of challenges that test their craftsmanship, technique and creativity.
During the evening, World Class House will open to the public with a range of interactive cocktail and food stations to explore, including a 'juice your own' bloody mary station using ingredients picked from the vibrant World Class House produce market, spritzer master class, and all-American BBQ with bourbon cocktail match.
Finalists will present their signature cocktails in front of guests each evening, with the aim to have their creation come out on top as most popular on the night.
World Class is designed to discover the next generation of bartending talent and celebrate premium beverages and cocktail trends, as well as provide bartenders the chance to hone their skills and represent their country on an international stage.
Cocktail culture is experiencing an international surge in popularity, with the hospitality industry increasingly seen as a promising career path in NZ and worldwide. World Class has a firm focus on celebrating bartenders in the same way as chefs, and places emphasis on quality, fine drinking experiences with the same regard as fine dining.
New Zealand's final five bartenders have undergone a rigorous four-phase selection process to make the cut, including an online examination; demonstration of correct cocktail craftsmanship; creation of their own cocktail menu based on a selection of trends such as lower ABV, recycling, 'retro remix' and fermentation; culiminating in World Class House as the final phase.
The World Class New Zealand winner will win the opportunity to create their own Auckland-based bar partnered with Lion Spirits, as well as compete in the World Class Global Finals in Miami in September this year, where one bartender will be awarded the title of 'World Class Bartender of the Year 2016'.
World Class House will be open on 4 August between 6pm and 11pm and 5 to 6 August 2016 between 5pm and 11pm, at Ponsonby Post Office building, 1-3 St Mary's Road, Ponsonby. Tickets are $40 and available from iTicket, and include entry to the venue and four tokens, two of which are redeemable for drinks and two for food matches. Additional drinks and food are available to purchase at the venue. Guests must be 18 years or older to attend.