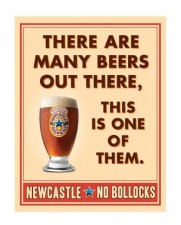 It was recently announced that Newcastle Brown Ale was to change its recipe following consumer concerns raised in the United States about a key colouring agent. The chemical that gives the beer its signature brown colour will be scrapped, according to a statement from Dutch drinks giant Heineken.
The chemical causing the fuss is 4-methylimidazole (4-MEI), reportedly a natural occurrence in brown drink brewing, which is also found in Pepsi and Coca-Cola. The European Food Safety Authority has twice ruled that the caramel-colouring ingredient is safe, and the US food and Drug Administration agrees, but American consumer groups have applied to pressure and forced a change.
A Heineken spokesman confirmed "we are in the process of changing our recipe for Newcastle Brown Ale and it will no longer include caramel colouring. The amount used in Newcastle Brown Ale is well within the recommended safe levels set by these bodies. However, we listened to consumer concerns that have been expressed, particularly in the USA, and chose to review our recipe. We will now achieve the distinctive colouring and flavour of Newcastle Brown Ale that our consumers enjoy by using roasted malts instead."
Craft beers obtain their colour through the use of roasted malts rather than artificial colouring as a matter of course. Newcastle Brown Ale is also no longer brewed in Newcastle.
Source: MSN (http://www.msn.com/en-gb/foodanddrink/foodnews/newcastle-brown-ale-to-undergo-recipe-change-following-us-fears-of-colouring-ingredient/ar-AA96sfu)