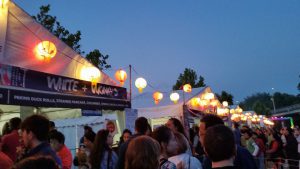 The iconic Night Noodle Market has kicked off summer at Auckland's Victoria Park.
Following its popularity at the inaugural markets in Christchurch, Wellington and Queenstown earlier this year, the Auckland debut of the hawker-style market was eagerly awaited by the city. For five nights local and international vendors dished up authentic Asian cuisine, replicating the hawker-style atmosphere – with Auckland providing excellent sunny weather for the event.
Brendan Phillis, Co-owner of Melbourne eatery Hoy Pinoy provided Aucklanders with a taste their signature Filipino barbecue skewers – the perfect snack to eat while perusing the market.
"There were two flavours to choose from: pork belly with a banana ketchup glaze, and chicken with a traditional sweet soy glaze. All our skewers are cooked over live charcoal, so you get a nice smoky flavour in there as well."
Hoy Pinoy has attended the past three New Zealand Night Noodle Markets
"We find that, at every market we trade in, people are really intrigued by Filipino cuisine. The flavours are something people keep coming back for – it's a little bit addictive. So for us, being able to showcase Filipino food is really exciting."
Some of Auckland's best eateries including White + Wong's, What the Pho and Monsoon Poon had their signature dishes on offer, tantalising the taste buds of all market-goers.
White + Wong's Executive Chef, Stuart Rogan, is thrilled the Night Noodle Markets are in Auckland, where locals pride themselves on their love for food and wine.
"The markets present a hustling, bustling, smoky environment with lots of food you wouldn't typically try. We added our own flare by hanging Peking Ducks along the White + Wong's tent – just like we do in the kitchen.
The Night Noodle Markets have been operating in Australia for almost 20 years as part of the Good Food Month. The market is now an annual event in Sydney, Melbourne, Adelaide, Brisbane and Perth, and was introduced to New Zealand this year.