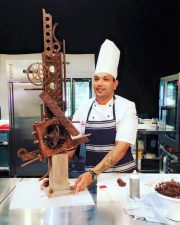 His life-like chocolate sculptures, gravity defying cakes and Heston Blumenthal-style desserts have amazed New Zealand's culinary elite for years. Now NZMA cookery tutor Ganesh Khedekar is taking his skills to the global stage, where he will battle it out in the world's toughest cooking competition.
Ganesh has been selected to represent New Zealand in the 2016 Culinary Olympics, which will take place in Erfurt, Germany from October 22 – 25.  Held once every four years, the event is the biggest culinary exhibition on the planet. The NZChefs Fonterra Olympic Team includes seven of the country's most talented chefs.  Part of the pastry section, Ganesh will be responsible for creating the show-stopping showpiece.
"It is a huge honour to be selected. It will be a lot of work but I am very excited. The opportunity to showcase my talent on the world stage is a dream come true," says Ganesh.
This is the first time since 1988 that NZChefs has sent a team to the elite competition, which has been running in Germany for over 100 years.  This year, 2000 top chefs from 40 countries will be battling it out for medals and global recognition. After a 28-year absence – thanks to sponsorship from Fonterra Foodservice and the energy and commitment of NZChefs – New Zealand's culinary crème de la crème will once again be amongst them.
Ganesh is no stranger to the limelight. Last year he wowed judges at the NZChefs National Salon with his Petit Fours and Celebration Cake, taking out gold medals and Best in Show for both categories. He was also a guest judge on the 2015 MasterChef New Zealand grand finale, challenging the top two contestants to recreate a dessert he'd just made for Pastry Chef of the Year – a duo feuilletine with smoked chocolate and black garlic ice-cream.
When he's not whipping up award-winning masterpieces, Ganesh is inspiring cookery students in his role as patisserie tutor at top Auckland cooking school NZMA. Either that, or he'll be creating mouth-watering sweet treats for The Slice, a dessert café he recently opened with his partner in Conifer Grove. "Life is pretty busy, and it all revolves around cooking, but I wouldn't have it any other way!"
Chocolate sculptures are one of his specialities. He recently spent 60 hours creating life-sized chocolate statues of two well-known radio personalities for a fundraising event in Cambridge, and last year he used 20kgs of chocolate to carve a five-foot high Hobbit-themed showpiece, which included a four-armed crossbow, Bilbo's sword, Gandalf's pipe, the ring and a dragon's spine. "It's all about illusion and creating a bit of magic," says Ganesh, "I like to push boundaries and always bring a new dimension to what I make."
Now Ganesh's culinary brain is in overdrive, devising his most spectacular showpiece yet for the Culinary Olympics. "We now have our theme and I've started working on my design.  It will take a few months to get it to a level I am happy with. It's going to be quite a challenge!"