NZMA cookery students headed to Rialto Cinemas Newmarket recently, to cook up a storm for a group of movie buffs.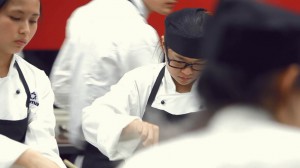 The event was part of Rialto's 'Films for Foodies' promotion, where once a month guests are treated to a themed evening of food, film and wine.  On May 18, American comedy 'Chef' was screened, and NZMA's Level 4 cookery students were invited to prepare and serve gourmet delights to cinema-goers.
"It was quite an exciting opportunity for our students," said Deputy Campus Principal at NZMA Sylvia Park, Jasbir Kaur. "It gave them the chance to gain work experience, and also think outside of the box in terms of coming up with a menu which related to the movie itself. The film is based on a chef who loses his job at a restaurant and starts up a food truck, so our students created a selection of food truck-style fare."
Their mouth-watering offerings included mini beef wellingtons, pancetta-wrapped lemon thyme chicken, salmon gravlax with cream cheese and pickled cucumber and vegetable samosas with mint riata and mango chutney.
More than 100 people attended the event and Kaur said the feedback the students received was excellent. "The staff at the Rialto loved both our food and our students and more importantly, we had rave reviews from the guests as well." NZMA's cookery school is hoping to participate in further Films for Foodies events later in the year.