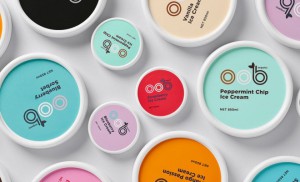 A recent report from OOB, the Matakana-based organic ice cream makers, has revealed that Aucklanders are flirtatious, ambitious risk-takers, people living in Wellington and Christchurch are kindred spirits and Alexandrians are just a little bit wild…
OOB analysed 12 months worth of its national sales data, then referred to the scientific findings of neurologist Dr Alan Hirsch. His book, What Flavour Is Your Personality?, explains that a person's favourite ice cream is an uncannily accurate reflection of who they are.
"New Zealanders eat more ice cream than any other country in the world, downing 23 litres per person every year," says Robert Auton, OOB founder. "There's the old saying, you are what you eat, so does that mean Kiwis must be made partly of ice cream! Well, we took it one step further to look at our most popular ice creams by region and find out what that reveals about us."
In Auckland, OOB's number one selling ice cream flavour is Vanilla with Flakes of Chocolate. This confirms that Aucklanders are idealistic, impulsive risk-takers (traits of a vanilla-lover), as well as ambitious, flirtatious and competitive (chocolate aficionados).
Moving down the country, people who live in Wellington and Christchurch have almost identical tastes. They are both adoring Peppermint fans, which shows that they're intellectual, creative and big sports fans. However they're equally fond of Vanilla with Chocolate Flakes – giving them more in common with those JAFAs than they'd probably care to admit.
In New Zealand's café capitals – Auckland, Wellington and Christchurch – Mocha features consistently in the top four flavours. Mocha is also the best-selling OOB ice cream on the West Coast of the South Island meaning they're dramatic, adventurous, and give their best in everything they do. In Alexandra and Blenheim, Licorice is the preferred ice cream flavor putting locals as spontaneous, outspoken and just a little bit wild.