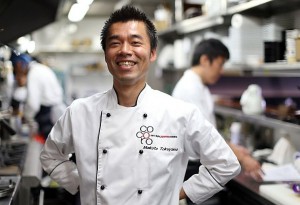 The finalists for the Ōra King Best Dish NZ and Best Ambassador NZ awards have been announced and two chefs have scored spots in both categories.
Bradley Hornby from Marlborough and Auckland's Makoto Tokuyama are among six finalists up for two awards which recognise outstanding contributions from chefs working with premium Ōra King salmon. 
Other finalists are MacLean Fraser from Wellington and Auckland's Thomas Barta in the Ōra King Best Dish NZ award category and Nick Honeyman (Auckland) and Chetan Pangam (Wellington) in the Best Ōra King Ambassador NZ section. 
The finalists for Ōra King Best Dish NZ are:
Bradley Hornby – Arbour (formerly Gibbs on Godfrey), Marlborough – Ōra King, Parsnip Puree, Black Garlic, Hazelnut, Mandarin.
Maclean Fraser – Artisan Restaurant, Bolton Hotel, Wellington – Vodka Cured Ōra King.
Makoto Tokuyama – Cocoro, Auckland – Lightly torched 'Sansho pepper-Miso' cured Ōra King salmon confit.
Thomas Barta – Harbourside Ocean Bar & Grill, Auckland – Flavours of the Sea. 
The Ōra King Best Dish competition is not complete until each of the four finalists' dishes are re-judged by industry expert judges Lauraine Jacobs and Anna-King Shahab. They will return to the top four restaurants to sample each dish and to select the supreme winner. The judges mark each dish on presentation, taste, creativity, technique, balance and the x-factor.
The finalists for Ōra King Best Ambassador NZ are.
Bradley Hornby – Arbour, Marlborough
Chetan Pangam – 1800Restaurant, Millennium Hotel, Wellington
Makoto Tokuyama – Cocoro, Auckland
Nick Honeyman 
The Ōra King ambassador awards for NZ and offshore chefs are decided solely by Ōra King's global team. Ōra King is New Zealand King Salmon's premium foodservice brand produced exclusively for fine dining restaurants in New Zealand and overseas.
New Zealand King Salmon marketing general manager Jemma McCowan says the third year of the awards have delivered four distinctively different submissions from the NZ Best Dish Award finalists. "The Ōra King team found it tough to predict a winner from such a diverse range of top quality entries, and it seems the judges have found it equally challenging. 
"Leading into the final round of judging, we've already heard that Bradley's dish stands out as 'beautifully styled' whilst MacLean's entry is the 'epitome of clever simplicity'. Thomas' dish 'showcases NZ seafood' with Ōra King as the hero, whilst Makoto brings a 'Japanese interpretation of seasonality' to the competition," Ms McCowan says. 
"Nick has consistently managed a nod to Ōra King across a year of exciting change including a culinary stint in France," she added. "Back in Wellington, Chetan has built on his reputation as heading up one of NZ's leading hotel restaurants and has factored Ōra King into many events.
"Bradley has raised the bar in our home region of Marlborough through fabulous cuisine and customer engagement with Ōra King amongst his regional heroes. Makoto continues to align Ōra King with Japanese excellence through his expressive cuisine," she says.
The winners of all Ōra King categories are announced at an awards ceremony at Raetihi Lodge in Marlborough on 20 October.
The New Zealand winners last year were Glen Taylor from Taylors on Jackson in Petone who took out Best NZ Ōra King Ambassador while Ben Batterbury from The Rees in Queenstown was awarded Best NZ Ōra King Dish.