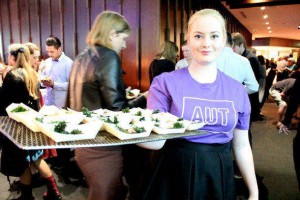 AUT's first cohort of Bachelor of Culinary Arts students (BA majoring in Culinary Arts) finished their degree with a flourish showcasing their skills at the Our City, Our Story event held recently. The 12 students created every aspect of the event from the menu, designed to showcase the best local Auckland produce and reflect the city's cuisine, to the marketing, sourcing the ingredients and costings.   
Tickets for the event sold out and on the night the students served the menu to over 100 guests. AUT Bachelor of Culinary Arts student Luke Gardiner says to create the menu they were looking for dishes that reflected locally available ingredients, like Te Matuku Bay Oysters from Waiheke Island, or that spoke to local flavours and cultural influences.
Their canapes, which included soft steamed buns, dumplings and fresh summer rolls, were based on "a walk down Dominion Road" and the fusion of different Asian food cultures.
The students also looked to deliver a new twist on some iconic local favourites – their version of Fish & Chips saw battered fish wrapped in thin strands of crispy potato.
"We chose to make the event a market-style event rather than a sit down fine-dining occasion because that has been done many times before. The market-style really allowed us to showcase the best of what Auckland has to offer," says Gardiner.
Senior Lecturer Alan Brown says the menu showed an understanding of the importance of using seasonal ingredients and, where appropriate, not overcomplicating things and letting beautiful ingredients stand, such as with the Te Matuku oysters.
"Our students have also learned the importance of all the different aspects that come together to make a great dining experience. The food is very important but you won't have a memorable experience without a great atmosphere too."
Our City Our Story also featured a panel of top Auckland industry figures, including Tony Astle from Antoine's and Ostro head chef Cobus Klopper, who shared their insights on Auckland's food scene.