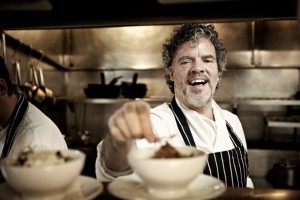 London-based Kiwi chef Peter Gordon took time out from his busy schedule to deliver a masterclass to Cookery Diploma students at NZMA's Sylvia Park Campus in Auckland recently, with some of the dishes designed for the new Sugar Club Sky Tower winter menu.
Executive chef at The Sugar Club, Neil Brazier assisted Gordon throughout. The two first met at Kauri Cliffs, where Brazier set up and ran the kitchen for four years, during which time the venue was voted the third best lodge restaurant in the world. 
The dishes created for the 40 students and staff included Parmesan baked ricotta with chilli roast tomatoes and peas; chorizo mash; broccoli couscous; grilled scallops with sweet chilli sauce and crème fraiche, and for dessert, spiced berry and vanilla risotto.
Synonymous with creating brilliant, accessible and unpretentious food, every dish was a revelation in simplicity, with exciting flavour combinations, and soul-warming, comfort food for winter.    
"I've always wanted to be involved with restaurants my mother and father would be comfortable eating at," Gordon says. And the string of restaurants he has been and is involved with have stayed true to those principles. 
Moving to London in 1989, he now has restaurants in both London and Auckland. In London there's Kopapa, The Providores and Tapa Room, and he's co-founder of Crosstown Gourmet Doughnuts, which launched in 2014. And in Auckland there's the Sugar Club and Bellota, specialising in Spanish tapas and wines which opened nine years ago.   
Gordon and Brazier served valuable advice to the students as they cooked, "Being a chef is a great career. If you love it, it will love you back," says Gordon. And from Brazier, "If you work really, really, really hard, it will reward you."   
In an industry where the need for passion is legendary and as important as the ingredients chefs use, Gordon closed the Masterclass with some sobering statistics, "If you want to own your own restaurant, to be really good at cooking isn't enough. If you have a terrible business head that could mean disaster. In the UK it's very tough, with a 95 per cent failure rate."
The leading chefs' words failed to douse the ambition of the truly committed though, and Brazier is already working on potential work experience opportunities for several of the cookery students who approached him after the session.