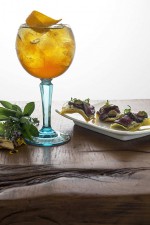 Premium gin brand Bombay Sapphire is excited to announce the New Zealand debut of its celebrated pop up bar and restaurant, Project Botanicals.
The pop up will present a distinctly different dining experience and pay homage to Bombay Sapphire's unique approach to gin making with an exotic menu of 10 matched cocktails and dishes, inspired by the 10 botanicals within Bombay Sapphire.
Local Bombay Sapphire Brand Ambassador Chase Bickerton and Chef Mark Southon have teamed up to create the Project Botanicals menu, bringing a raft of experience and creativity to the table to ensure a dining experience like no other. Each Project Botanicals cocktail has been expertly crafted to highlight the complex layers of one of the 10 botanicals within Bombay Sapphire gin, and paired with a dish that complements these botanical flavours.
"Bombay Sapphire's 10 exotic botanicals make the spirit a fantastic drink to pair with food. Within each Bombay Sapphire bottle, there are some of the most exotic flavours in the world; juniper berries from Tuscany, coriander seeds from Morocco, liquorice from the grassy plains of China, bitter almonds from Spain and even cassia bark from Indo-China. We've brought these to life by pairing classic and custom cocktails with dishes created by one of the industry's talented chefs," says Chase.
One of Bombay Sapphire's beautiful botanicals is lemon peel, created by handpicking arguably the best lemons in the world in Murcia, Spain, which are then hand peeled and dried in the hot Mediterranean air. To highlight this versatile citrus botanical, a classic Tom Collins style cocktail aptly named 'When life gives you…' that combines zesty lemon and fragrant rosemary notes, has been paired with a Spanish-inspired dish of roast scampi tails with lardo, pecorino gnocchi, almond and red pepper essence.
"We've taken these fresh flavour profiles from different corners of the world and thought about how we could make them interesting, incorporating different textures and elements to end up with a balanced and exciting menu," Mark says.
In addition to celebrating the gin's 10 exotic botanticals, the menu features seasonal local produce and ingredients and draws inspiration from today's food and drink trends.
One such trend is that of coffee and tonic – and a Gin & Java cocktail with fresh cold brew coffee and flavours of pepper and orange, paired with a manuka smoked rakumara red venison, sourced straight from the Gisborne ranges, and served with coffee mayonnaise, horseradish and celeriac more than satiates the trend.
Project Botanicals has been activated in Melbourne for the past two years with huge success, but this is the first time it has landed on local shores. The New Zealand Project Botanicals pop up bar and restaurant will be open for two weeks only at James, Parnell.
Held at James, 18 Stanley Street, Parnell, Auckland
Sittings available at 6.30pm and 8.30pm Wednesday to Saturday
Sittings available at 3.30pm and 5.30pm Sunday
Limited tickets available at www.iticket.co.nz from 14 October.