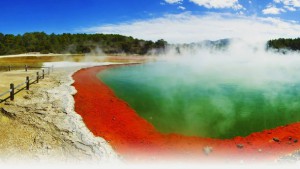 After a wet start to the year, Rotorua had plenty of cosy accommodation and all-weather activities, which helped drive benchmark-beating growth in the visitor sector.
Commercial Accommodation Monitor results for January, released by Statistics New Zealand, reveal domestic visitors spent 131,000 nights in Rotorua's commercial accommodation during January 2016. This represents a six per cent increase over the same month last year and is double the national benchmark.
Total visitor nights in Rotorua motels during January were up nine per cent to 81,000 (versus a seven per cent increase nationally) and total visitor nights in Rotorua holiday parks were up 12 per cent to 50,000 nights (versus a two per cent increase nationally).
Rotorua Association of Moteliers chairwoman Fiona Suurenbroek said a large proportion of visitors in Rotorua motels and holiday parks were New Zealanders.
"Motels offer a variety of family friendly facilities that, regardless of the weather, are sure to keep everyone entertained. We have Kiwi families who visit every year because they know that, rain or shine, they will have memories to treasure forever."
Rotorua's multiple lakes mean there is no shortage of water activities and lakeside campsites, with plenty of other activities to enjoy when it does rain. During January there were 126,000 domestic visits to Rotorua Attraction and Activities Monitor sites, up 12 per cent over the previous January.
Rotorua Visitor Information Centre manager Graham Brownrigg said the wet weather always saw a big influx of visitors asking about activities to do when it rained and while indoor activities and hot pools were always popular, forest activities were as well.
"The forest canopy is so dense that even in moderate rain you can stay relatively dry and the pumice soil means water doesn't pool on the paths. People mention that when it's raining they actually enjoy the forest even more. They like the fresh forest scent."
Rotorua Lakes Council economic growth portfolio leader and deputy mayor Dave Donaldson said the latest statistics demonstrated the continuing story of Rotorua's buoyant visitor industry.
"This strong growth in commercial accommodation, activity and attraction visits shows that the Rotorua visitor industry is well on track to achieving the goal of doubling the value of this industry from $500 million in 2013 to $1 billion by 2030," he said.