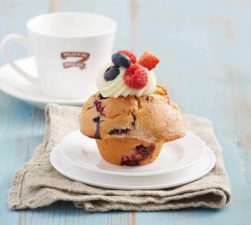 Two lucky Kiwi schools will be able to stretch their 2017 budget by up to $5,000 as the Muffin Break Great Bake Sale returns to Facebook for another year.
Schools around New Zealand are invited to enter the Great Bake Sale via Muffin Break's national Facebook page. Two schools will win the ultimate fundraiser by being best at rallying students, staff, parents and friends to show their support and vote for their school via the social platform. Votes are weighted based on school population size, giving even the smallest of schools a chance of winning.
The winning school gets funding of up to $5,000 for a school resource project including a $3,000 cash card. In addition, the winner and runner up get the opportunity to sell 500 muffins valued at $4 apiece to sell at their very own bake sale on a date of their choosing. The runner up school will also receive a $1,000 cash card to spend on much-needed resources.
Since its inception, Muffin Break's annual Great Bake Sale has been widely supported, as local communities strive to improve their schools' ability to fund equipment and projects.
Last year's winner Pukekawa School made the most of its windfall. "We purchased a large, mobile interactive television with built in Mimio for small and large group work," says principal Karen McCulloch.  "As a smaller school, we do not have the extra funds to purchase such an amazing technological tool.
"The students enjoyed the feeling of success and were really excited about the Great Bake Sale," Ms McCulloch says. "We had a real sense of belonging to our little country school."
She says the new television/computer tool engages children in their learning, enhances visual information and inspires them to go further with their inquiries. "Our kids love learning in this modern way. Without winning this wonderful prize, we could not have even entertained the idea of purchasing such a great learning tool."
Muffin Break Marketing Manager Gemma Fitzsimons says the bakery café business is proud to support local schools and communities through the Great Break Sale. "It is of great satisfaction to us all at Muffin Break when we see not only the effect the prizes have on the winning schools but also how the campaign helps to bring school communities together for a common cause."
Last year 56 per cent of schools in New Zealand entered the Muffin Break Great Bake Sale, and more than 25,000 votes were cast throughout the competition.
Schools can enter online by visiting www.facebook.com/MuffinBreakNZ where there's also downloadable support material to encourage participation from parents and friends. The competition is currently live and finishes on September 25, 2016.