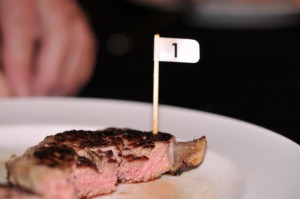 Beef farmers across the country are putting their best entries forward for the thirteenth annual Beef + Lamb New Zealand Steak of Origin Competition.
The highly anticipated competition, sponsored by Zoetis, seeks to find New Zealand's most tender and tasty steak, an award taken seriously by those in the industry.
Beef + Lamb New Zealand CEO, Dr Scott Champion, says the competition is a great platform to showcase the New Zealand beef industry and illustrates the great care farmers take in producing the best quality beef. "It's also a competition keenly contested by beef farmers who strive to take the coveted Steak of Origin title," says Champion.
New Zealand beef farmers are invited to compete for the prestigious 2015 Grand Champion title, while meat retailers, wholesalers and foodservice suppliers can enter into the 2015 Best of Brand category.
All entries will be scientifically tested at Carne Technologies, where elements such as tenderness and colour will determine which steaks will make the semi-finals.
These steaks will then be judged on aroma, juiciness, tenderness, texture and taste by a panel of culinary trained judges at the semi-final held in Auckland on Friday 1 May. From here, 20 finalists will be chosen for the Grand Final held in Palmerston North on Monday 11 May.
Entries close February 20. For an entry form, farmers, retailers, wholesalers and foodservice suppliers can visit beeflambnz.co.nz or call 0800 733 466.