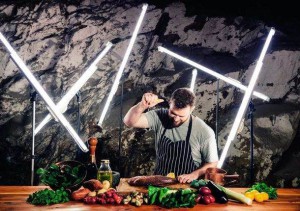 Otago Polytechnic's Food Design Institute has announced it will host the second International Food Design Conference and Studio in late June 2016.
Conference Convener Professor Richard Mitchell said the three-day event would celebrate 'The Human Touch', recognising the stories and influence of people who grow, manufacture and prepare our food. 
He says the first task is to secure an engaging selection of world-class presenters and workshop hosts and an international search has begun. He's encouraging international food and design professionals who have projects to share to contact him.
The inaugural 2014 conference was a blend of keynote addresses and hands-on workshops and Mitchell says that formula will be used again in 2016. Attendees included; chefs, food producers, growers, food technologists, food media and bloggers and highly engaged foodies. A popular feature of the last event was pop up dining experiences across Dunedin for conference attendees and locals.  Tickets sold out for these events and its hoped an extended programme will be available.
The International Food Design Conference and Studio will be one of the cornerstone events of the celebrations for 50 years of Otago Polytechnic, which was founded in 1966.
Early bird tickets will go on sale in February 2016.
WHAT: International Food Design Experience, Conference and Studio
WHEN: Wednesday 29 June – Friday 01 July 2016
WHERE: Otago Polytechnic, Union Street, Dunedin
WHO SHOULD ATTEND: Everyone with an interest in food, particularly food professionals
www.facebook.com/Food.Design.Edge