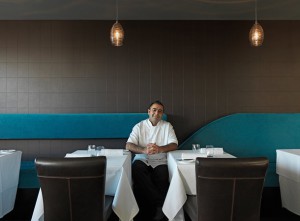 Ponsonby restaurant SIDART is five years old and to celebrate the milestone owner Sid Sahrawat has decided to take a nostalgic trip down memory lane.
The awarded chef opened his renowned Ponsonby restaurant in late 2009 and to commemorate the anniversary, Sid's decided to revive some of his and his diners' favourite dishes.
For the month of October SIDART will be serving five- and nine-course degustation menus comprising special reprisals from each year the restaurant has been open.
"Five years is an important milestone for any restaurant," Sid says, "especially in a market where I suspect the life of the average establishment is often way less.
"So we decide to commemorate the occasion in a fitting manner by showcasing those dishes and styles that have distinguished each of our menus since 2009."
Sid's not revealing too much about what's on offer but he does say he wants to revive a favourite from his first year in business with SIDART. It's a free range pork and quail plate with cashew puree, date, sumac and radish.
"I've always liked the combination of poultry and pork," Sid says. "The cashew puree was big in 2009 and works well with the strong meats – people very much enjoyed it when we opened.
"Likewise, each of the dishes will reflect the SIDART style for its appropriate year so our regulars will be able to reflect on the past five years with us."
For those who have come to SIDART more recently the chef is promising one of his favourites from 2014 – scallops cooked in leek ash, smoked parsnip, seaweed, cavolo nero and black garlic.
Diners have a choice of either a five-course degustation at $95 and an additional $50 for wine matches, or a nine-course degustation at $140 and an additional $90 for wine matches.
Sid and sommelier Amanda Rogers are yet to finalise the wine list but he insists it will have a nostalgic bent to it too. "Again, we will be showcasing the best from our lists of each year – excusing 2013 and 2014 vintages of course."
Bookings can be made by calling 09-360-2122. SIDART, Three Lamps Plaza, 283 Ponsonby Road, Ponsonby.