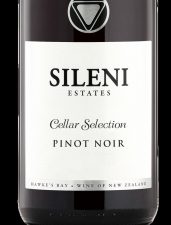 New Zealand winery Sileni Estates Cellar Selection Pinot Noir will be served on the new daily route direct to Auckland from Los Angeles, which begins this weekend. American Airlines customers will be able to enjoy a glass of Cellar Selection Pinot Noir from October on the new 787-8 Dreamliner.
Pinot Noir is one of the fastest growing export varieties for the Hawke's Bay winery, quickly becoming a firm favourite with consumers around the world. "Hawke's Bay doesn't yet have the same recognition as other Pinot Noir producing regions within New Zealand. However, we struggle to keep up with demand for our Hawke's Bay Pinot, which is appreciated for its food friendly style and vibrant fruit flavours," says CEO and President Graeme Avery.
This latest endorsement adds to an impressive run for Sileni Pinot Noir. Recent vintages of the varietal have collected trophies in the Sydney International Wine Competition, the Korea Wine Challenge and the China Wine and Spirits Awards. In addition to gold medals in the Sélections Mondiales des Vins in Montreal and Mundus Vini International Wine Awards in Germany.