Red meat is set to star on menus of the country's top restaurants over the next few months as chefs compete in the Silver Fern Farms Premier Selection Awards.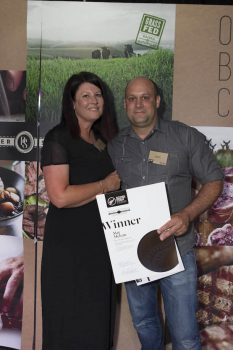 Last year's winner, Mat McLean of Palate Restaurant in Hamilton took home the title of Premier Master of Fine Cuisine from a field of 73 chefs in the competition's inaugural year. His dish was a combination of Silver Fern Farms Premier Selection Reserve beef eye-fillet and slow cooked short rib with smoked kumara, shitaki salad, baby turnip, soy chilli butter.
Silver Fern Farms General Manager Marketing Sharon Angus believes the Awards were well received by chefs because they offer New Zealand's best chefs the opportunity to demonstrate their talent and craft with the best quality red meat.
"There was a strong feeling among chefs that while home cooks were receiving lots of attention for their growing skills that professional chefs in New Zealand had not been recognised enough for their skills. We wanted to showcase their craft to diners through these Awards," Sharon Angus says.
Silver Fern Farms has invited a select group of top chefs from over New Zealand to enter an original dish using cuts from Silver Fern Farms extensive range of beef, venison and lamb or SILERE alpine origin merino. Diners can enjoy these dishes on the menus at participating restaurants from 22 September to 31 October.
Dishes will be first judged by a team of mystery diners comprised of knowledgeable and experienced food and restaurant assessors lead by the country's foremost restaurant commentator Kerry Tyack.
Ten regional finalists will be selected to proceed to a second round of judging coordinated by Tyack and involving another highly respected regional judge. The five regions that the finalists will be selected from are:
Northland/Auckland
Central North Island
Lower North Island
Upper South Island
Lower South Island
"The team is looking for dishes that demonstrate a high level of expertise and innovation so we can discover who is producing the country's most memorable red meat experiences with the finest Silver Fern Farms cuts." says Kerry Tyack.
Current Premier Master of Fine Cuisine Mat McLean has been delighted with the response from his win and the results for his restaurant.
"There is a real need for this kind of Award as it puts the emphasis back on smart dining and helps test chefs so we lift our craft. On a personal note, winning has also helped our business as customers came into Palate looking for that winning dish months later."
The winner of these Awards will receive significant media exposure when the Premier Master of Fine Cuisine is announced in February 2015.
Sharon Angus says the Awards also help Silver Fern Farms to understand requirements chefs have for premium quality red meat cuts.
"It is an important way of learning more about the demands of chefs so they together we can exceed  diners' expectations. Last year reinforced how product consistency is the critical factor in decision making for chefs. Learning things like this, and understanding how to deliver on them, is important as we are setting ourselves up to supply premium quality ingredients here in New Zealand as well as in international markets."