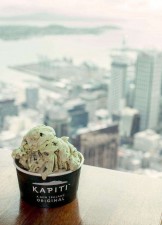 Two iconic New Zealand brands are providing the ultimate haven for ice cream, cheese and wine lovers at the new Sky Café – with sweeping city and sea views to match.
Aucklanders and visitors alike can now enjoy some of the country's finest gourmet delights from great heights – with award-winning Kapiti ice creams and cheeses at the newly refurbished Sky Café up the Sky Tower this summer.
Ice cream aficionados will love getting creative at the new 'coldstone' ice cream bar, where they can develop their own unique flavour combinations over a cooled stone slab. 
As the sun sets over Auckland, visitors can relax with unparalleled views alongside delectable cheeseboards and wines exclusively from New Zealand. Grilled cheese sandwiches and baked cheese dishes for two (including Kapiti Kahikatea Camembert, truffle oil and mushroom with grissini option) are all served up alongside popular café favourites with a gourmet twist.
SKYCITY Auckland General Manager, John Mortensen, says the new Sky Café brings together two well-loved NZ icons. "The Sky Tower is the top tourist attraction in the country, and together with premium Kapiti ice creams and cheeses now on offer, visitors can experience New Zealand's best in one place."
Kapiti spokesperson, Hailey Ryan, says the premium partnership between Kapiti and the Sky Tower makes sense. "Kapiti is all about creating unique and high quality New Zealand tastes to savour – our products combined with the stunning panoramic setting of the Sky Café offer something extra special for Aucklanders and visitors alike and we're excited to be a part of this new venture."
Sky Café officially opens from Wednesday 9 December.
S.Pellegrino announces  new search for the best Young Chef of the World
Following the notable worldwide success of its first edition which saw New Zealand chefs, Thomas Hishon from Orphans Kitchen, Xin Jing of Cocoro and William Mordido of Chikos placed in the Pacific Top 10, S.Pellegrino is proud to launch S.Pellegrino Young Chef 2016, the global scouting project to find the best young chef in the world.
The unique initiative, dividing the world into 20 areas and involving around 100 top chefs as jurors across the globe, 20 young chef finalists, 20 chef mentors and a stellar chefs jury, reflects S.Pellegrino's commitment to supporting emerging talents. Applications will start on 1st Jan 2016 on www.finedininglovers.com.
Veteran talents of the competition include Irish Chef Mark Moriarty, winner of the 2015 edition, who commented on his positive experience: "I was delighted and honoured to be named S.Pellegrino Young Chef 2015. The journey was an unforgettable and one off experience that I will never forget. I met so many fantastic chefs along the way and the title has made an incredible difference to my career as a whole".
S.Pellegrino Young Chef 2016 will feature a renewed panel of judges, the Seven Sages, which will be responsible for selecting the most talented young chef of the world. The jury will be composed of some of the world's most renowned culinary masters, such as David Higgs, Carlo Cracco, Gaggan Anand, Elena Arzak, Mauro Colagreco, Wylie Dufresne and Roberta Sudbrack.
S.Pellegrino Young Chef is a global competition realized in different phases.
THE PHASES OF THE PROJECT
PHASE ONE: ONLINE APPLICATION – January – March 2016
Any young chef in the world can submit their application together with their signature dish at www.finedininglovers.com. The chefs must be no older than 30 and are required to have experience of at least one year working in a restaurant as a chef, sous chef or chef de partie. The complete list of requirements will be available on the website. 
PHASE TWO: GLOBAL SHORTLIST – April 2016
All candidates will be divided according to their geographic origin, representing 20 regions total*. ALMA, the world's leading international educational and training centre for Italian Cuisine (www.alma.scuolacucina.it), will then select from the online applications the first 10 finalists for each region, according to five Golden Rules: ingredients, skills, genius, beauty, and message.
1. INGREDIENTS: Successfully selecting the best of what the market has to offer with regards to quality, freshness and uniqueness.
2. SKILLS: Successfully handling and transforming raw materials into a finished dish that respects its original essence.
3. GENIUS: Successfully exploring inedited, inspiring, unexpected prospects/outlooks, connected with fine dining culture with a personal and contemporary style, while maintaining a perfect balance of tastes and shapes. 
BEAUTY: Dish presentation is part of the charm.
MESSAGE: Successfully communicating a clear message through work and personal vision.
PHASE THREE: LOCAL CHALLENGES – May 1 – August 15, 2016
The 10 finalists of each area will have to compete during a local event: each region will have a jury composed by at least independent famous chefs that will taste the signature dishes of the finalists and choose the best one, always according to the 5 Golden Rules. By the end of August the 20 best young chefs from all the regions of the initiative will be announced.
In the Pacific, the regional jury includes great names:
Peter Gilmore, who has been the Executive Chef at Quay Restaurant in Sydney since 2001.
Andrew McConnell, who opened Melbourne restaurant Cutler & Co. in February 2009.
Jacques Reymond received his 80th Hat, and with the timely handover of his eponymous restaurant, Jacques Reymond Restaurant to his sous chefs, whom have re-opened as Woodland House.
Peter Doyle's restuarant, Est. has retained 3 hat status since 2003 and 3 Gourmet Traveller stars since 2007.
Adam D'Sylva opened Coda in Melbourne in 2009 and within the first year awarded One Chefs' Hat.
The Pacific cook off's will take place at Crown in Melbourne end of July.
FINAL PHASE: S.PELLEGRINO YOUNG CHEF FINAL – October 13 – 15, 2016
By the end of August 2016, the 20 Best Regional Young Chefs from each world region will be announced as the official finalists. Each finalist will be assigned a "Mentor Chef", one of the members of the regional jury, who will provide the young chefs with suggestions to improve their signature dishes and to help them prepare for the global finals.
In October in Milan, S.Pellegrino will host the final event to celebrate the best young chefs who have competed. An international jury of famous chefs will award the S.Pellegrino Young Chef 2016.