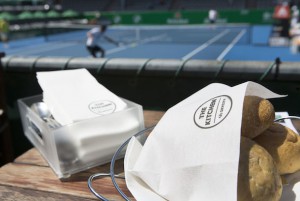 SKYCITY Auckland's successful Federal Street restaurant pop-ups will now feature at high profile events under an exciting new brand, The Kitchen c/o SKYCITY, which officially launched last week.
SKYCITY Auckland Executive Manager Conventions and Outcatering Warren Bias says the new brand is a better reflection of the style of food and events the company prides itself on. "With seven years experience, we're well known for using top quality produce to create locally-sourced food delivered seamlessly in a creative way," says Mr Bias. "The Kitchen c/o SKYCITY will continue to deliver the exceptional catering services to both the private functions and major Auckland events that people have come to expect us at."
The new branding recently featured at Auckland Cup Week and New Zealand Festival of Tennis, where SKYCITY had huge success catering 4,500 Wagyu beef burgers from The Grill by Sean Connolly, 4,000 gyoza (dumplings) from Masu by Nic Watt and 1,800 kgs short ribs to corporate boxes.
Mr Bias says it's very rewarding taking SKYCITY's exceptional Federal Street restaurants offsite to new and exciting locations. "We are currently showcasing The Kitchen c/o SKYCITY at the Volvo Ocean Race Village in The Heineken Yacht Club and Stoneleigh Bar in the Viaduct, featuring pop ups from Federal Street restaurants at both events."
"There is so much choice out there in the market for people in Auckland, and a big part of what makes an event attractive is exceptional food. We want people to recognise The Kitchen c/o SKYCITY branding and be excited about what they'll find there."
The Kitchen c/o SKYCITY officially launches under the guidance of new Executive Chef Andrew Methven.