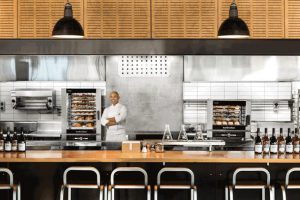 For the engineers behind the new Turbofan Combi 40 Series the brief was simple: provide enhanced flexibility and convenience with the addition of a new combi-oven mode – but do so within the compact footprint  for which Turbofan's are  renowned.
"This was a significant move," says Stuart Murray, Moffat's General Manager sales. "It is one of our most popular brands and the 812mm width of the new series follows the 'small footprint, big features' philosophy."
Versatility is key. Each oven can operate in combi, convection or steam modes, providing quality output for everything from patisserie-style baked goods to meat, fish and vegetables.
With automatically controlled temperature and humidity the combi mode provides excellent results for proteins without the need for continual basting. The variable ventilation speed on convection mode offers cooking uniformity with automatic power reduction slashing energy consumption. Steam mode delivers precisely controlled flavour, colour and consistency even at low temperatures thanks to the automatic steam saturation regulator.
"We also knew the market required a combi-steamer with different Gastronorm loading capacities," says Murray. A unique grill support system provides variable positioning for specialist savoury baking trays.  "It's ideal for the smaller kitchens in cafes or bars too, and the sophisticated design helps with front of house use and in bar areas," says Murray. "With the pricing encouraging more businesses to install a combi-steamer,"
"With easy cleaning, manual and digital models, the choice of 'touch and cook' functionality and additional fan innovation we're really proud of the efficiency and ease now on offer," says Murray.
Visit the Moffat website, here.